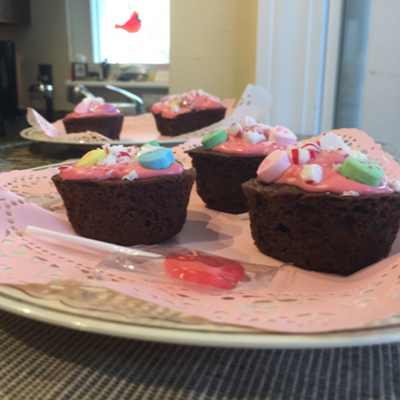 Ingredients
Pillsbury Cake Mix or Equal (White or Chocolate)
3 Eggs
1/2 C Crisco Oil
1 C Water
Ready Frosting
Peppermint Candies, Crushed
Valentine Hearts
3 drops Peppermint
6 drops red dye
Directions
Prepare cake mix and fill half full into heart shaped cupcake pan sprayed with Pam.
Bake at 350 deg. F for 20 minutes. Remove from oven, invert pan and pop out cupcakes. Cool for frosting.
Add red dye drops and peppermint flooring and mix together. Apply to called cakes in center.
Sprinkle with crushed peppermint and add 3 each Valentine hearts to each. Place on heart doily and serve.