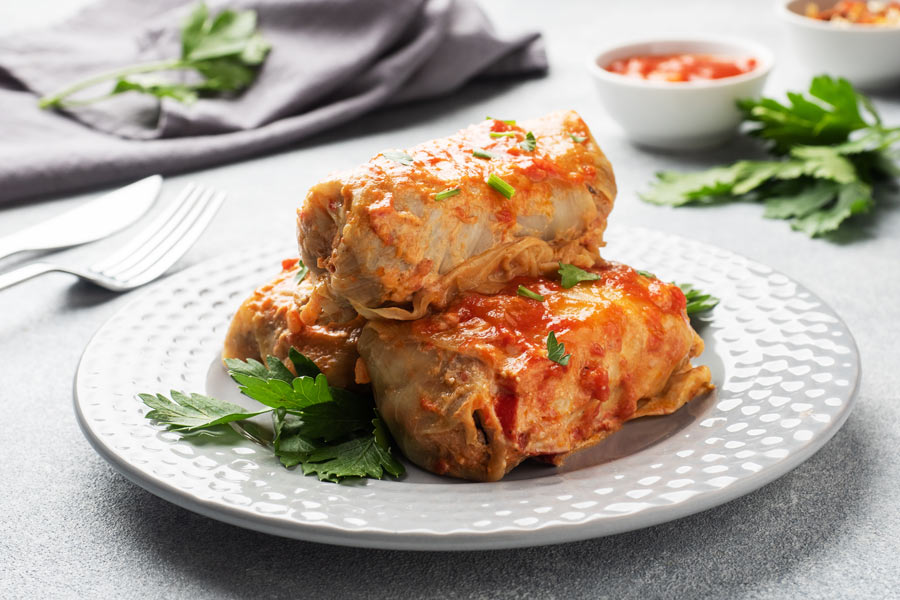 Ingredients
1 beaten egg
1/2 cup milk
1/4 cup finely chopped onion
1 teaspoon Worcestershire sauce
3/4 teaspoon salt
dash of black pepper
1 pound ground beef or ground venison burger
3/4 cup cooked rice
6 large or 12 medium cabbage leaves
2 (10 3/4-ounce) can condensed tomato soup or 1 large can
1 tablespoon brown sugar
1 tablespoon lemon juice
Directions
In a bowl combine egg, milk, onion, Worcestershire sauce, salt, and pepper. Mix well.
Add meat and cooked rice, Mix well.
Remove center vein of cabbage leaves, keeping each leaf in 1 piece. Immerse leaves in boiling water about 3 minutes or till limp; drain.
Place 1/2 cup meat mixture on each large leaf or 1/4 cup mixture on each medium leaf. Fold in sides, making sure folded sides are included in roll.
Arrange in a 12 x 7 x 2″ baking dish.
Stir together tomato soup with brown sugar and lemon juice. Pour sauce mixture over cabbage rolls.
Bake uncovered in a 350 F oven for 1 1/4 hours, basting once or twice with sauce.