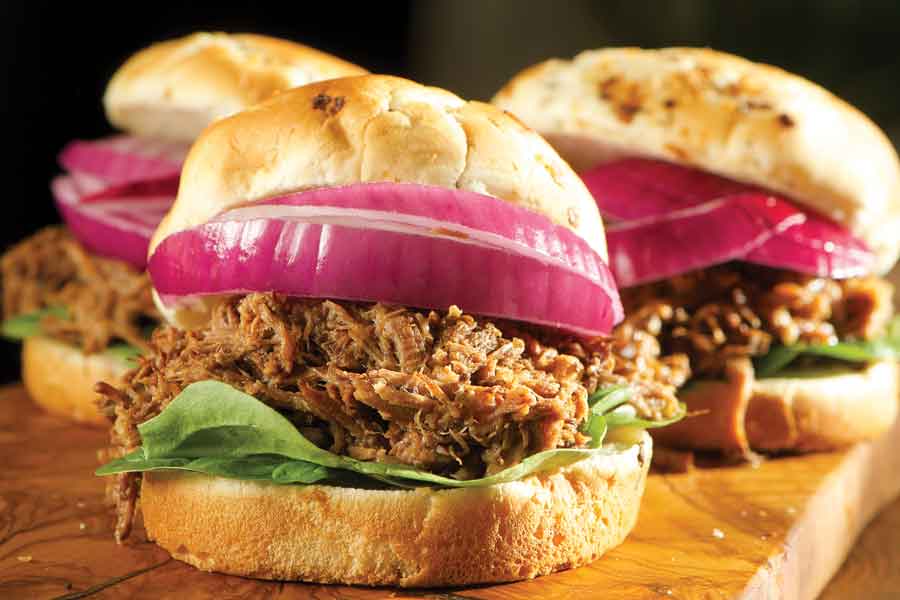 Ingredients
1 lean boneless beef chuck roast (about 5 pounds)
3 tablespoons cooking oil, divided
2 large onions, chopped
1 cup ketchup
1-2 small cans beef broth*
1 cup chili sauce
¼ cup cider vinegar
¼ cup packed brown sugar
3 tablespoons Worcestershire sauce
2 tablespoons prepared mustard
2 tablespoons molasses
2 tablespoons lemon juice
1 teaspoon salt
teaspoon pepper
¼ teaspoon cayenne pepper
1 tablespoon liquid smoke, optional
12-16 hamburger buns
Directions
In a Dutch oven, brown roast on all sides in 1 tablespoon oil. Meanwhile, in a large saucepan, sauté onions in
remaining oil until tender.
Add remaining ingredients to the saucepan. Reduce heat and simmer, uncovered for 15 minutes, stirring occasionally.
Pour sauce over roast. Cover and bake at 325 degrees for 2 hours, turn roast and continue to bake 2 more hours until roast is very tender.
Remove roast from oven, shred with fork and return to Dutch oven with sauce.
*If too stiff, add more beef broth to the right consistency. If there is extra, just freeze in containers.