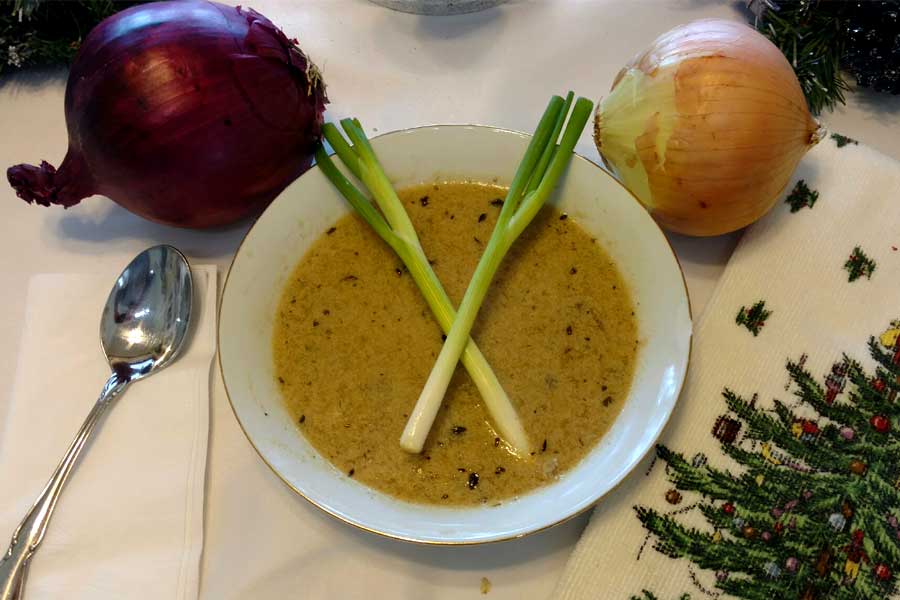 Ingredients
4 tablespoons butter
4 slices of lean bacon, chopped
One medium yellow onion (chopped)
One medium white onion (chopped)
One Vidalia onion (chopped)
One red onion (chopped)
One Amish apple onion (Chopped) or Cipollini or regional favorite
Two large leeks, sliced into ¼ inch dollars
One cup sliced scallions (whites only-save greens for garnish)
½ teaspoon salt
½ teaspoon freshly ground pepper
1 cup sliced shallots
1 bay leaf
½ teaspoon thyme (ground, French preferred)
1/3 cup all-purpose flour
2 quarts' chicken stock
1 cup half and half
Salt and pepper
½ head minced fresh garlic
½ cup white wine
1/8 cup Worchester sauce
3 teaspoons snipped chives for garnish
Directions
In a large stock pot, melt the butter over medium heat. Then add the bacon and render until crisp.
Remove the bacon with a slotted spoon and drain on paper towels. Set aside.
To the stockpot, add all the onions, shallots, salt, pepper, bay leaf, and thyme and cook, stirring until soft and caramelized.  Then add the wine, leeks and garlic, cooking until soft.
Dust the flour over and stir until blended well. Add the stock and Worcestershire sauce and bring to a boil.
Reduce the heat and simmer uncovered for 45-60 minutes, stirring occasionally.
Add the cream, stir to incorporate. Cook for 15 minutes.
Remove the bay leaf and pulse the soup with an immersion blender.
Serve the soup, garnishing with the bacon and chives.