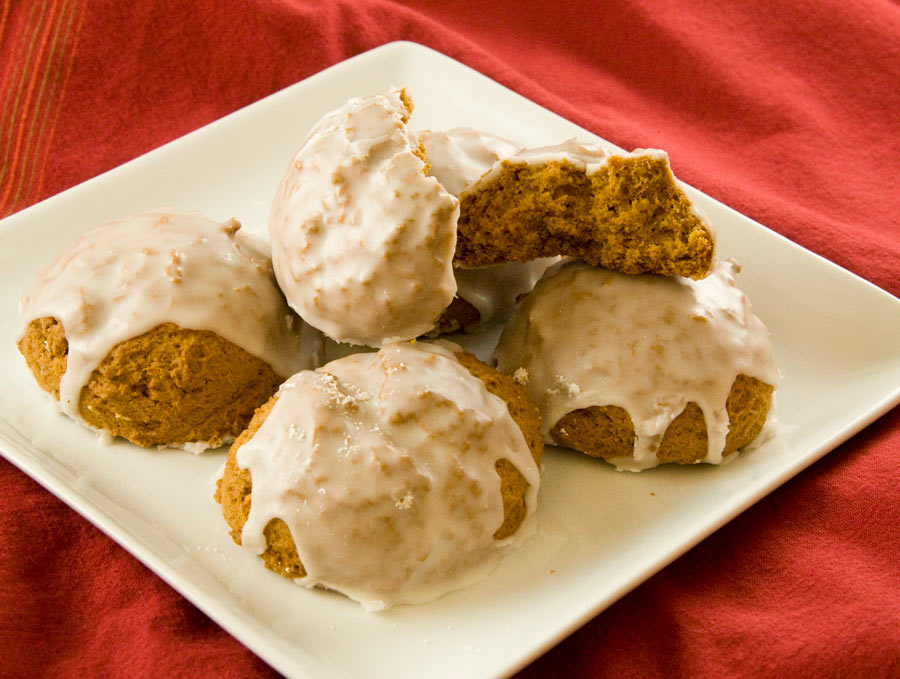 Cookie Ingredients:
⅔ cup sugar

⅔ cup packed brown sugar

¾ cup butter, softened

1 teaspoon vanilla

½ cup canned pureed pumpkin

2 eggs

2 ¼ cups all purpose flour

1 teaspoon baking soda

1 teaspoon ground cinnamon

¼ teaspoon pumpkin pie spice

½ teaspoon salt
Frosting Ingredients:
3 cups powdered sugar

1 teaspoon vanilla

3-4 tablespoons milk

⅓ cup butter
Heat oven to 375 F. In a large bowl, beat sugar, brown sugar, ¾ c. butter and 1 tsp vanilla on medium speed, scraping the bowl occasionally until well blended.  Beat in canned pumpkin and eggs until well mixed.  On low speed, beat in flour, baking soda, cinnamon, pumpkin pie spice, and salt until well combined.

Drop by heaping tablespoons onto an ungreased cookie sheet lined with parchment paper.  Bake for 10-12 minutes or until no indentation remains when touched in the center.  Immediately remove from sheet to baking rack and cool completely.

Frosting:

  In a medium bowl, place powdered sugar, vanilla and 3 Tbsp milk.  In 1 quart saucepan, heat butter over medium heat, stirring constantly, just until light brown. *Note: butter will get foamy before turning brown. 

Pour browned butter over powdered sugar mixture and beat on low speed about 1 minute or until smooth.  Gradually add just enough of the remaining 1 Tbsp of milk to make the frosting creamy and spreadable.  Generously frost the cooled cookies.  *Note: If the frosting gets too dry while frosting, add a ¼ tsp milk or more to make it more spreadable.