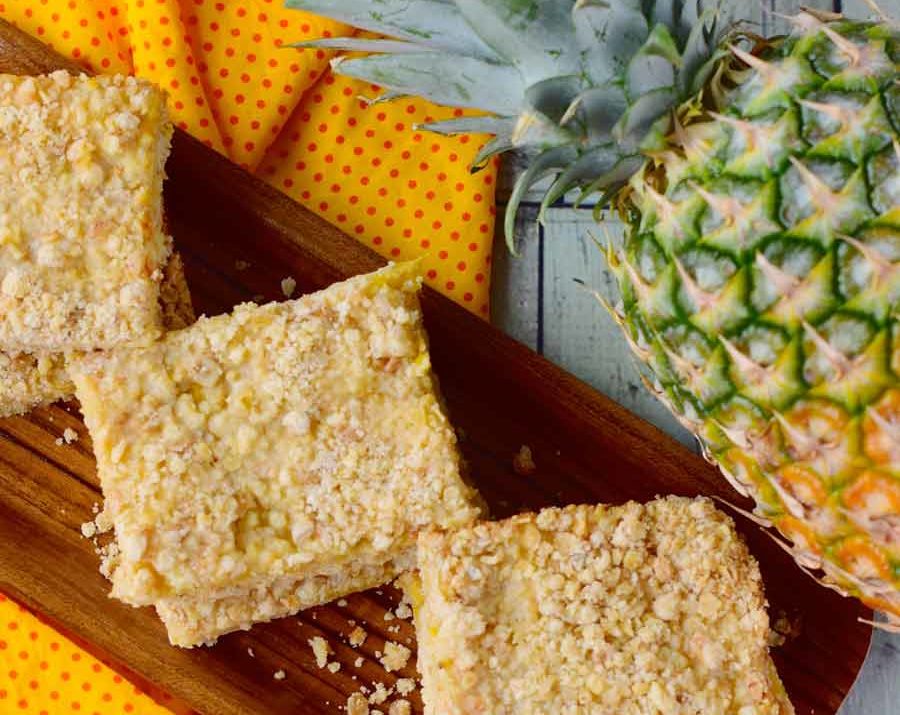 Ingredients
Base:
1 cup all-purpose flour
1/2 cup sugar
1/2 cup butter
Filling:
8 ounce package cream cheese, softened
2 tablespoons sugar
2 tablespoons milk
1 teaspoon vanilla
1 egg
8 ounce can crushed pineapple, well drained
1 cup flaked coconut
1/2 cup chopped macadamia nuts (or almonds)
1 tablespoon butter, melted
Glaze:
1/2 cup powdered sugar
3-4 teaspoons milk
1/4 teaspoon rum extract
Directions
Heat oven to 350 F.
Lightly spoon flour into measuring cup, level off.
In medium bowl, combine flour and 1/2 cup sugar. With pastry blender or fork, cut in 1/2 cup butter until crumbly. Press in bottom of ungreased 9-inch square pan. Bake for 10 minutes.
In a small bowl, combine cream cheese, 2 tablespoons sugar, 2 tablespoons milk, vanilla and egg. Beat until smooth. Stir in pineapple. Spread over partially baked base.
In small bowl, combine coconut, nuts and 1 tablespoon melted butter. Sprinkle evenly over pineapple mixture. Return to oven and bake 18-20 minutes or until coconut is golden brown and filling appears set. Cool completely.
In small bowl, combine all glaze ingredients. Drizzle over bars. Refrigerate until serving time. Enjoy!