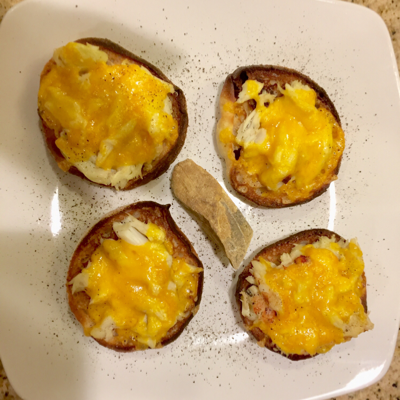 Ingredients
6 Sliced Sourdough Bays English Muffins
1 Can Crab or 1 C fresh cooked King Crab, Blue Crab, etc.
3 T Butter
2 T Olive Oil Mayo
1/4 C Shredded Extra Sharp Cheese
Directions
Split and toast muffins. Spread with butter evenly. Set aside.
Drain crab; Warm 30 seconds if refrigerated previously; Fold crab into a mixing bowl with Mayo. Spread evenly on muffin halves.
Place loaded muffins halves on greased cookie sheet (crab side up). Sprinkle with cheese.
Place pan under broiler for 2-3 minutes. (Watch so they don't burn!) Crab Bites should bubble with cheese once done.
Remove from oven and let sit for 2 minutes and then quarter into bite sized pieces. Sprinkle with Old Bay and place on platter for serving. Add Parsley and/or White Pepper to taste. Add Crab claw shells, if available, for garnish and serve warm.