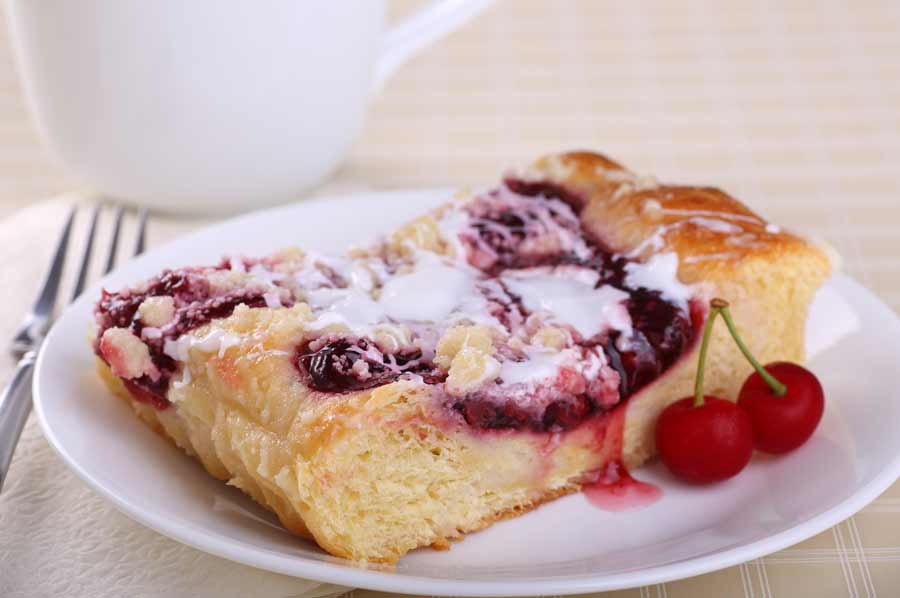 Ingredients:
¾ cup butter, softened
1 ½ cups sugar
3 eggs
1 ½ teaspoons vanilla
3 cups flour
1 ½ teaspoons baking powder
1 ½ teaspoons baking soda
¼ teaspoon salt
1 ½ cups sour cream
Filling:
½ cup sugar
1/3 cup flour
1/3 cup finely chopped walnuts
½ teaspoon chai spice
1 teaspoon cinnamon
2 cups fresh Michigan tart cherries, pitted, chopped and well-drained
Directions:
Pre-heat oven to 350 F.  Grease tube pan. Combine butter, sugar, eggs, vanilla and almond extract. Beat on medium speed for 2 minutes. Mix flour, baking powder, baking soda and salt in separate bowl.  Add to the creamed mixture alternately with the sour cream, beating well after each addition. Mix the filling ingredients in a separate bowl. Spread 1/3 of the batter in prepared pan.  Spread 1/3 of the filling across the batter.  Repeat 2 times. Bake for 60 minutes or until toothpick comes out clean.  Cool about 15 minutes before removing from the pan.  Lightly dust with powdered sugar while still warm. *You can substitute frozen tart cherries if fresh are not available.  Thaw completely and drain well. This is a great way to enjoy Michigan cherries!