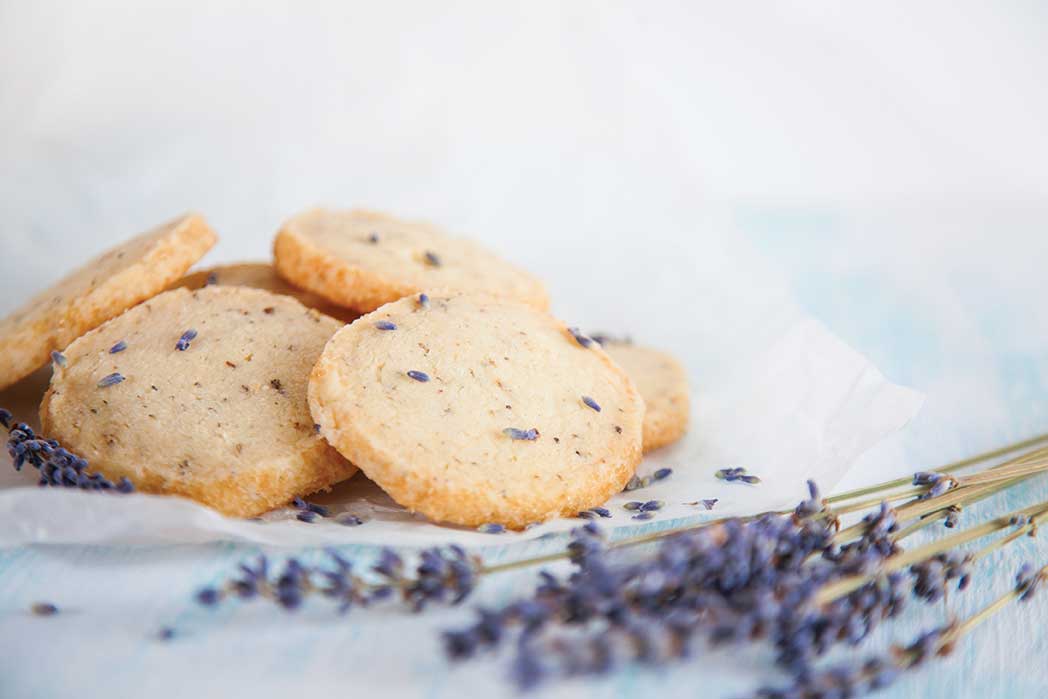 Janene Rawlinson has a certified kitchen at her Shades of Lavender Farm, allowing her to make amazing lavender recipes. These cookies rank high on her list of favorites.
Ingredients
1½ sticks (3/4 cup) butter
1 cup white sugar—plus more for the top of cookies
1 tablespoon culinary lavender buds
¼ cup honey
1 egg
1 teaspoon vanilla extract
2 cups flour
2 teaspoons baking soda
1/2 teaspoon salt
Directions
Preheat oven to 350 F. Place the white sugar and culinary lavender into a blender and pulse until the lavender is ground into tiny bits. Pour this mixture into a large mixing bowl. Put the butter into a microwavable bowl, cover and microwave for 10-second intervals until melted. Do not overheat.
Add the melted butter and the honey into the mixing bowl along with the lavender sugar. Beat until fully mixed. Add egg, beating well between each and then add the vanilla.
In a separate bowl, mix the flour, baking soda and salt. Stir until combined. Slowly incorporate the flour mixture into the wet ingredients. Place a cover over this and refrigerate for approximately 30 minutes.
Scoop the dough onto a parchment lined baking tray using a small cookie dough scoop. Take a drinking glass and wet the bottom of the glass (you will only need to do this once). Put some sugar into a bowl. Dip the bottom of the glass into sugar.
Gently press each cookie with the bottom of the glass so that it slightly flattens it. You will need to dip the glass into the sugar after each cookie.
Bake cookies for 8–10 minutes. Cool and enjoy!