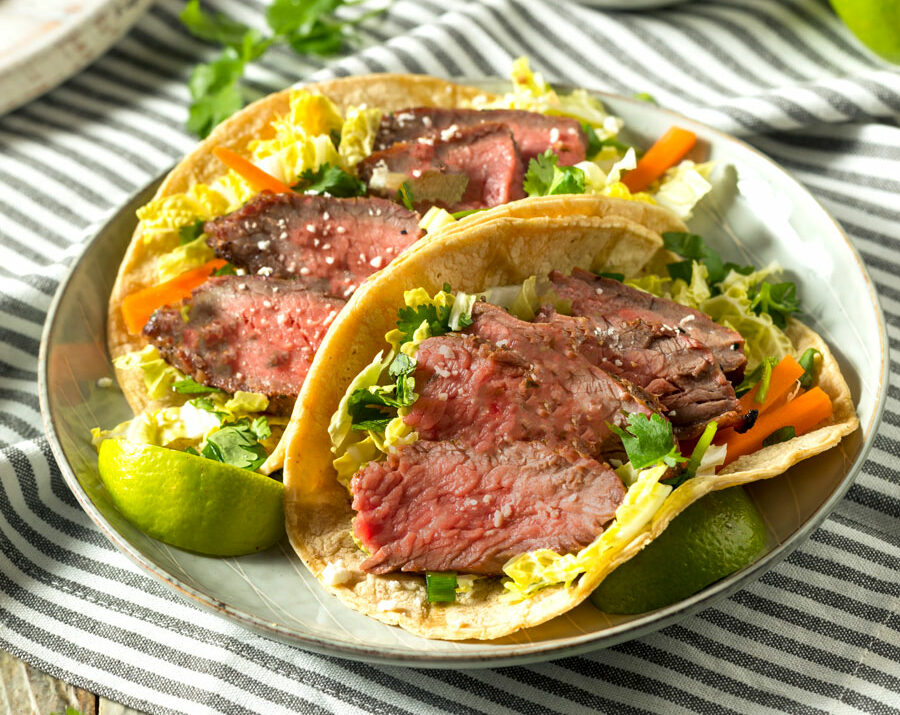 A frequent request from my grandaughter Katja, her favorite.
Marinade:
1 pound flank steak, cut against the grain into bite-sized pieces
2 tablespoons soy sauce
2 tablespoons sugar
2 cloves garlic, minced
2 teaspoon sesame oil
3 teaspoon water
1 teaspoon mirin
Dressing:
1 tablespoon soy sauce
1 1/2 teaspoon lime juice
1 1/2 teaspoon sesame oil
1/4 teaspoon sugar
Other ingredients:
1 1/2 cups romaine lettuce, chopped
1 cup napa cabbage, chopped
1/4 cup shredded carrots
1/4 cup cilantro, chopped
1/4 cup green onions, diced
small flour tortillas (I used street taco size)
sriracha sauce
lime wedges
Combine soy sauce, sugar, garlic, sesame oil, water and mirin in a large ziplock bag. Place the sliced meat in the marinade and refrigerate for 2-24 hours.
Combine dressing ingredients in a small bowl. Whisk until well combined, set aside.
Heat a grill pan over medium high heat. Coat with cooking spray. Once hot, add the steak, cook for 2-3 minutes, stirring often until it is cooked to your desired degree of doneness. Remove from the grill pan and set aside. Pour some of the marinade into the pan and cook on high 2-3 minutes until it has boiled and reduced a bit.  Pour the reduced marinade onto the cooked beef and toss to coat evenly.
Toss lettuce, cabbage, carrots, cilantro and onions with dressing.
Layer meat and salad mixture on warmed tortillas. Serve with sriracha sauce and lime wedge. ENJOY!