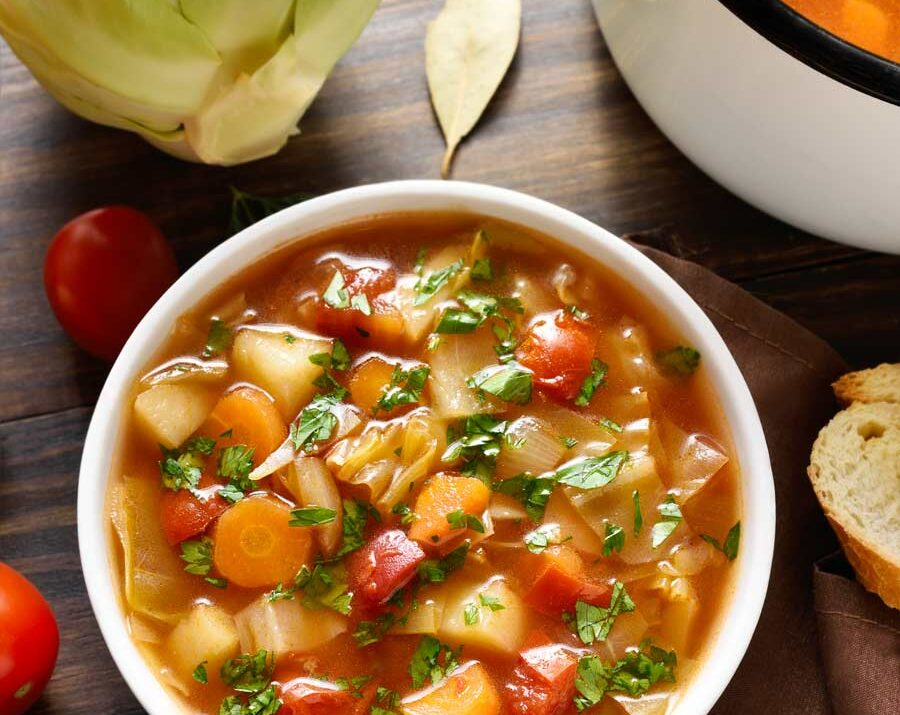 2 tablespoons olive oil
1 medium white onion, chopped
3 stalks celery, chopped
4 large carrots, peeled and chopped
3 medium Yukon gold potatoes, cut into 1/4-inch cubes
3 cloves garlic, minced
6 cups chicken or vegetable broth
1 cup tomato juice
1 (14.5-ounce) can diced tomatoes, drained
1 head green cabbage, cored and chopped
1 teaspoon salt
1/2 teaspoon black pepper
1/2 teaspoon sugar
1/2 teaspoon thyme
1/4 teaspoon celery salt
1 bay leaf
Heat the olive oil in a large pot or Dutch oven over medium-high heat. Once it is shimmering, add onion, celery, carrots, and potatoes. Sauté until the vegetables start to soften, about 5-7 minutes. Add the garlic and cook for another minute, until fragrant. Pour in broth and tomato juice and stir. Add the diced tomatoes, cabbage, salt, black pepper, sugar, thyme, celery salt and bay leaf. Bring contents to a boil and then reduce the heat to a simmer. Simmer for 30-40 minutes, until the cabbage is wilted and the vegetables are soft. Enjoy!