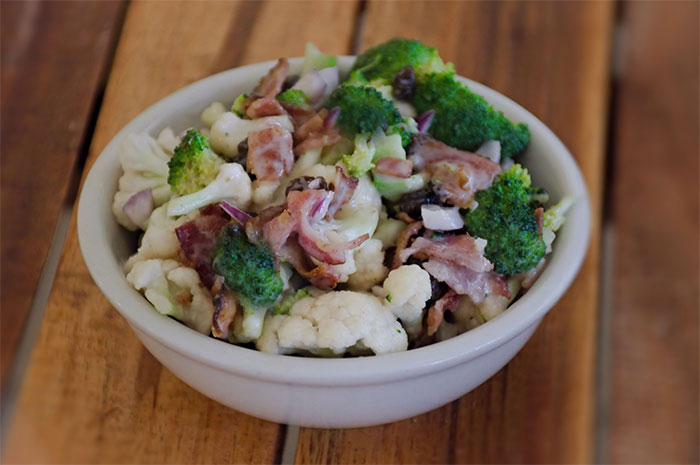 Ingredients:
1 cup chopped romaine lettuce
1/4 cup chopped red onion
1/4 cup chopped sugar snap peas
1/4 cup chopped sweet red pepper
1/4 cup chopped radish
1/2 cup chopped cucumber
1/2 cup chopped fresh broccoli
1/2 cup chopped fresh cauliflower
1/4 cup shredded mozzarella
1/4 cup shredded cheddar cheese
4 strips turkey bacon, cooked and crumbled (optional)
Dressing:
1/2 cup low-fat Miracle Whip salad dressing
2 tablespoons stevia powder
1 tablespoon apple cider vinegar
1/2 teaspoon dill weed
Combine veggies and bacon and cheese in mixing bowl. In separate bowl, mix together the dressing ingredients; stir into veggie mix. May be served immediately; it's even better when refrigerated for a few hours. You can omit or add chopped fresh veggies to suit your own tastes. This recipe serves two; you can easily double or triple ingredients for more servings.