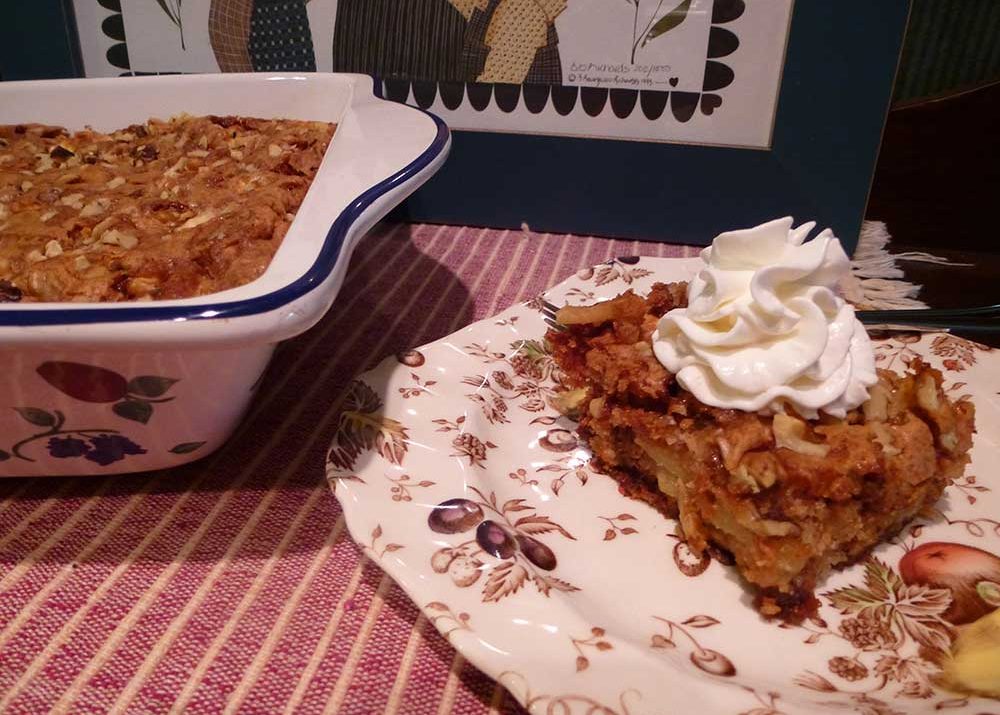 Ingredients
4 cups apples, sliced thin
2 eggs, beaten
2 scant cups sugar
2 cups flour
1 teaspoon baking soda
1 and 1/2 teaspoons cinnamon
1/2 teaspoon salt
1/2 teaspoon baking powder
1/2 cup oil
1 teaspoon vanilla
1/2 cup chopped nuts (optional)
1 cup whipping cream plus sugar to taste
Directions
In a large bowl, beat the eggs and then fold in the apples.
In a medium bowl, blend the sugar, flour, soda, cinnamon, salt and baking powder.  Add the dry mix to the apples and fold until well blended.  Then, fold in the oil and vanilla.
Place batter in a 13 x 9 baking dish and top with the nuts.  Bake at 325F for 1 hour – until done.
Cool until slightly warm (or room temp).
Whip the cream until soft peaks form, adding 2-3 teaspoons of sugar about half way through.  Serve each piece of cake with a dollop of sweetened whipped cream.