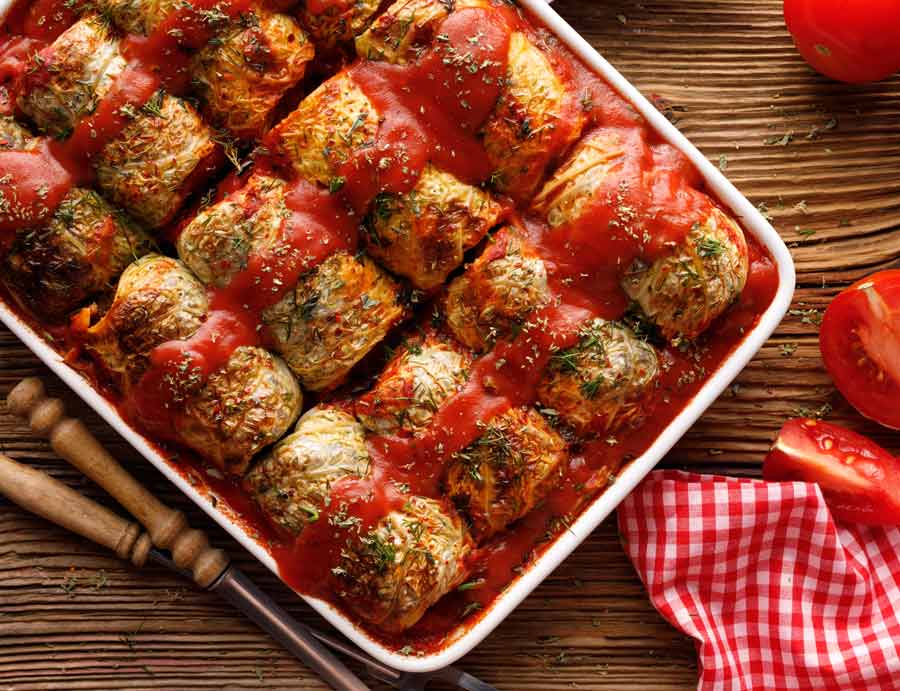 2 large heads cabbage
8 ounces long grain rice, cooked according to package directions, drained
1 medium onion, chopped
1 pound ground beef
1 pound ground pork or veal
1 egg
1/2 cup melted butter, divided
10 1/2-ounce can beef broth
16-ounce can tomatoes, undrained, cut up
15-ounce can tomato sauce
10 3/4-ounce can condensed tomato soup, if desired
salt, pepper, and garlic powder, to taste
Preheat oven to 325 F. Parboil cabbage and drain. In a large bowl, combine cooked rice, onion, ground beef, ground pork/veal and egg. Pour 1/4 cup butter over mixture. Mix well with your hands. Core cabbages, separate leaves and cut thick ribs out of each leaf. Put a large tablespoonful of meat mixture in the center of each cabbage leaf. Fold in sides, roll up and place seam side down in large roasting pan. In large bowl, combine beef broth, tomatoes, tomato sauce, tomato soup and remaining 1/4 cup butter. Pour over rolls. Bake at 325 F or 1 1/2 hours. Baste with tomato mixture occasionally during baking.