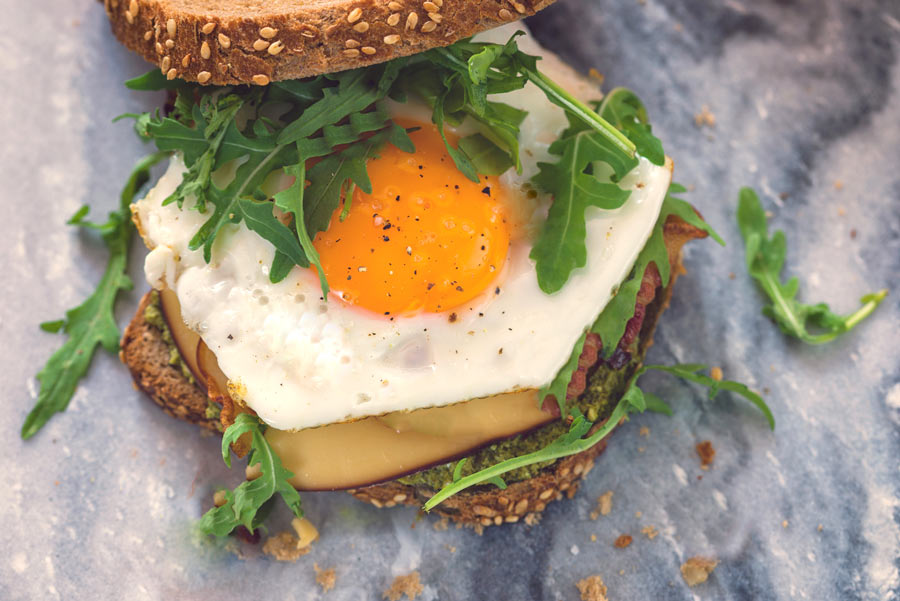 Ingredients
2 slices Artisan style bread (or one of your choice)
2 tablespoons butter, room temperature
1 tablespoon canola oil
1 fresh egg, any size
cracked black pepper, as desired
1 to 4 ounces sliced or shredded Gruyere cheese (or cheese of your choice)
1 cup fresh arugula, rinsed and dried
Directions
Fry the egg in a preheated (medium heat) nonstick skillet and oil, breaking the yolk after the whites have begun to set, if desired.
Cook to desired opaqueness. Set aside and sprinkle with pepper.
In the same skillet, with the heat slightly reduced, place a slice of bread with one side buttered, butter side down.
Top with two or three slices, or about an ounce and half, of cheese.
Top the cheese with the arugula and cooked egg.  Add more cheese if desired.
Top with the remaining slice of bread, one side buttered and facing up.
When the bottom slice of bread is browned to your liking, gently press down on the sandwich.  Gently flip the sandwich, careful not to allow the fillings to spill out.