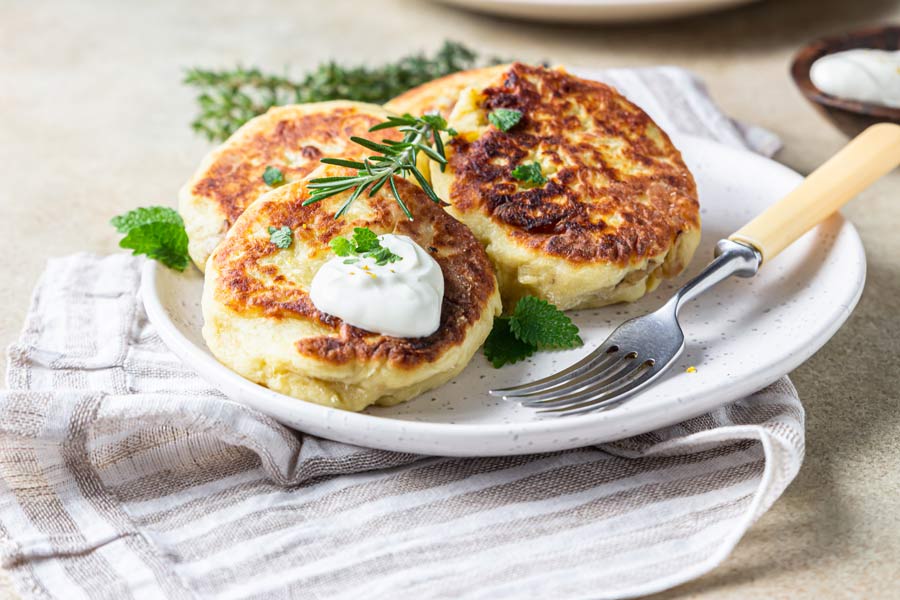 1 pound scrubbed Idaho potatoes
1 tablespoon salt
3 strips bacon
1/4 cup finely diced onions
1/4 cup finely diced celery
1 teaspoon garlic
salt and pepper, to taste
1/4 cup milk (optional)
Scrub and dice potatoes (leave the skins on) into about 1-inch chunks, add salt and boil till tender. Drain well, set aside. Dice bacon into 1-inch pieces and brown over medium heat till crispy.  Remove bacon from pan and add celery, onions to pan, and sauté until slightly opaque (about 5-7 minutes). Drain. Add vegetables, garlic, salt, paper and bacon to potato pot.  Mash gently, you want these chunky and slightly dry.  Add 1/4 cup milk if needed. Form mixture into patties (6) and after wiping excess bacon grease from the bacon pan, use the same pan and fry gently over medium low heat.  About 6 minutes per side, flip only once. Serve with sour cream or shredded cheddar cheese. Yummy!