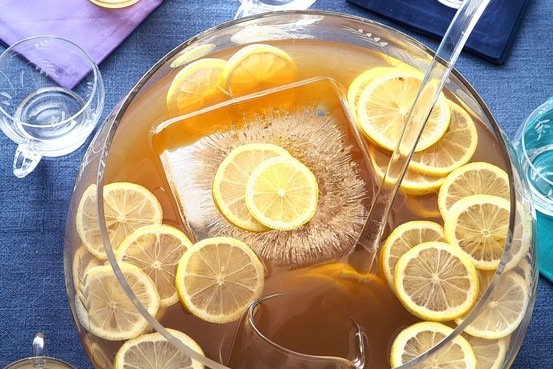 Ingredients
1 bottle (750 mL) dark rum
1 pint bottle (375 mL) brandy
5 oz freshly squeezed lime juice
5 oz freshly squeezed lemon juice
30 oz Bottle of 100% pure peach juice (no sugars)
Lime for slicing into ice mold and garnish
Large block of ice, for serving

Wash and dry a rectangular cardboard milk carton. Cut off the top to create a rectangular mold.
Pour filtered water to fill to 25% and add thinly sliced limes on top.
Let freeze, and repeat process of adding water and limes, and freezing.
This creates a block of ice with limes throughout, which looks nice in the punch bowl.
Directions
Chill the peach juice, rum and brandy.
Squeeze limes and lemons.
Pour all ingredients into a large plastic or non-reactive jug.
Stir well to combine.
Cover and place jug in refrigerator to chill, at least 4 hours.
Pour into a punch bowl over a large block of ice.
Garnish with lime or lemon slices
Serve in small punch glasses.