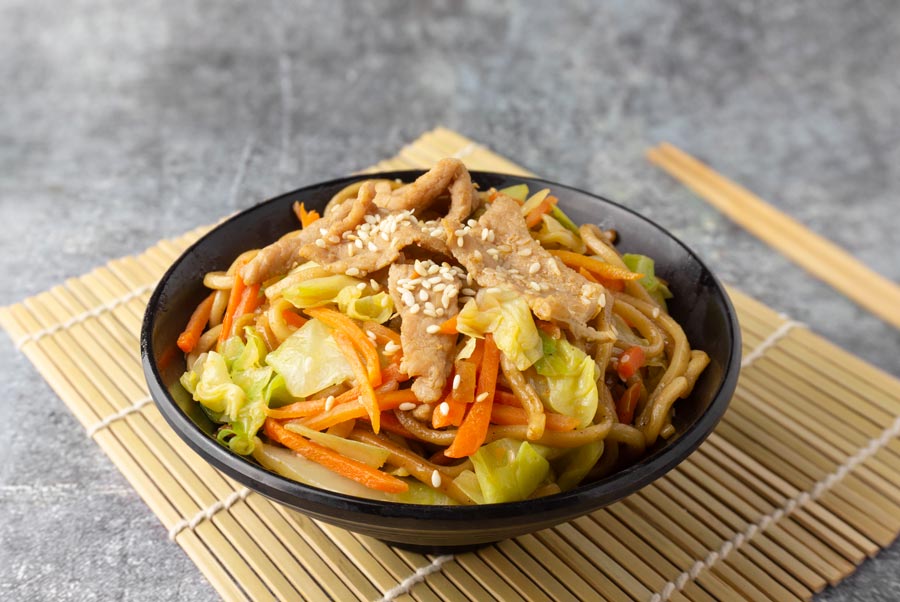 8 ounces ground pork (ground turkey or chicken also works)
3 tablespoons reduced sodium soy sauce, divided
1/2 small onion, chopped
2 garlic cloves, minced
1/2 teaspoon grated ginger (or 1/8 teaspoon ground ginger)
2-1/2 cups finely sliced cabbage
2 cups finely sliced baby bok choy
1/2 cup shredded carrots
2-1/2 ounces sliced shiitake (or other) mushrooms
1/2 tablespoon Chinese rice wine or dry sherry
1/2 teaspoon toasted sesame oil
sliced scallion or green onion, for garnish (optional)
fried wonton strips, for garnish (optional)
Use a large non-stick skillet or wok over medium-high heat. Add the pork and 1 tablespoon of the soy sauce and cook, breaking up the meat into small pieces as it browns, about 3 minutes. Add the onion, garlic and ginger and cook, stirring, until vegetables are soft, 2-3 minutes. Add the cabbage, bok choy, carrots and mushrooms. Pour in remaining 2 tablespoons soy sauce, rice wine and sesame oil. Cook, stirring occasionally, until the cabbage and bok choy are wilted but still crunchy, 3-4 minutes. Garnish with scallions/green onions and serve hot.