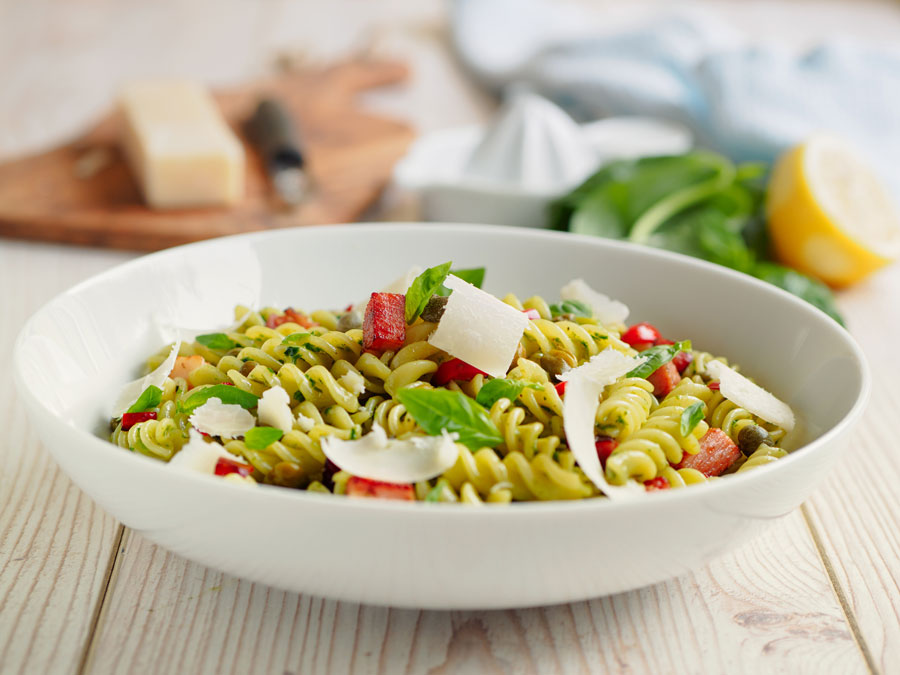 Ingredients
1 (16-ounce) package rotini pasta
2 cups cherry or grape tomatoes
1 colored bell pepper, chopped
1 large cucumber, diced
1/4 cup red onion, chopped
1 (16-ounce) bottle Italian-style salad dressing
1/2 cup grated Parmesan cheese
2 tablespoons salad seasoning, store bought or homemade (see below)
Salad Seasoning
1 tablespoon sesame seed
1 teaspoon paprika
1 teaspoon poppy seed
1 teaspoon celery seed
1 1/2 teaspoons salt
1/2 teaspoon garlic powder
1/2 teaspoon ground black pepper
Stir all salad seasoning ingredients together in bowl and store in an air-tight container.
Directions
Bring 4 quarts of water to a rapid boil (2 teaspoons of salt can be added, optional).

Add rotini pasta. Return water to rapid boil and cook uncovered, stirring frequently, for about 10 to 12 minutes.

Drain rotini pasta. Rinse in cold water.

Combine cooked rotini pasta with tomatoes, bell pepper, cucumber, red onion, salad seasoning, Parmesan cheese and 1/2 of Italian salad dressing. Add more dressing if desired.
Cover and chill. Toss salad before serving.
Can be made the night before and stored in refrigerator.