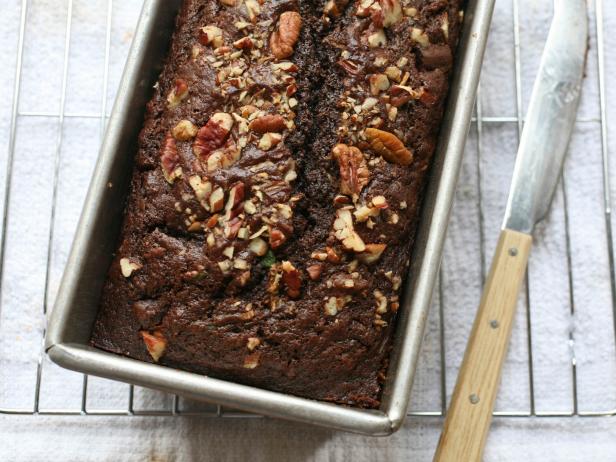 Ingredients
3 medium zucchini (1lb)
3 cups unsifted flour
1 1/2 teaspoons baking powder
1 1/2 teaspoons cinnamon
1 1/4 teaspoons salt
1 teaspoon cloves
1 1/2 cups salad oil
2 1/3 cups firmly packed brown sugar (1 lb)
4eggs
2 squares unsweetened chocolate, melted
1 cup semi-sweet chocolate pieces
1 cup pecans
GLAZE….
1 cup powdered sugar
1 tablespoon margarine or butter softened
dash salt
2 tablespoons light corn syrup
2 tablespoons water
1/2 teaspoon vanilla
1 square semi-sweet chocolate for curls , optional
Directions
Grate enough zucchini to make 3 cups. Preheat oven to  350 degrees
grease & flour 10″ tube pan ; set aside
in a large bowl combine flour, baking powder, cinnamon, salt, baking soda, & cloves; set aside
in large mixer bowl, at medium speed, beat salad oil & sugar, then add eggs one at a time, beating well after each.
Gradually beat in melted chocolate
Add the dry ingredients beat until smooth
fold in the zucchini, chocolate pieces, & pecans
bake 1 hour & 20 minutes or until toothpick comes out clean.
Cool on wire rack 20 minutes.
Remove from pan & put on wire rack.
Make glaze
in small bowl beat sugar, margarine, & salt, add corn syrup, water, & vanilla,
spread glaze over cake & let set 10 minutes.
garnish with chocolate curls if desired.
Serve immediately.