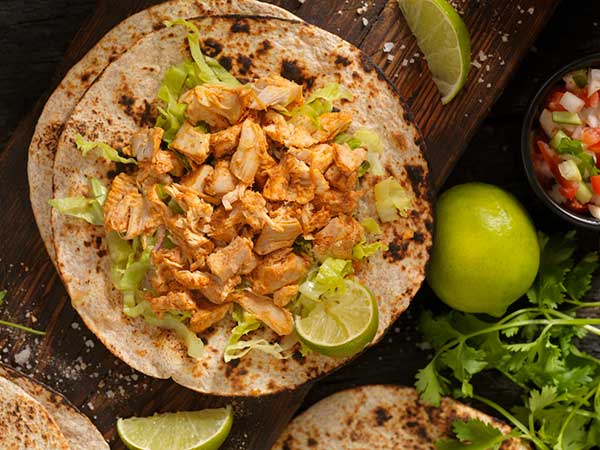 Ingredients
2 boneless chicken breast halves
2 tablespoons hot sauce (Frank's)
1 teaspoon butter, melted
1/2 teaspoon ground red pepper
2 tablespoons buttermilk
2 tablespoons mayonaise
1 ounce blue cheese crumbled (~1/4 C)
2 cups shredded romaine lettuce
1 celery stalk, thinly sliced
8  6-inch corn tortillas
Directions
Heat a grill pan over medium high heat, coat with oil.  Cut the chicken breasts in half the long way to make 4 cutlets.  Season well with salt and pepper.
Cook chicken 2-3 minutes on each side until done.  Remove from pan and let chicken sit a few minutes before slicing thinly.
Combine hot sauce, butter and red pepper with a whisk.  Add sliced chicken to mixture and coat.
Combine buttermilk, mayonnaise and blue cheese, mash with fork.  Add lettuce and celery to the mixture.
Warm the tortillas as the package directs.
Place chicken mixture in tortilla and top with cheese mixture.
Serve with tortilla chips or rice.