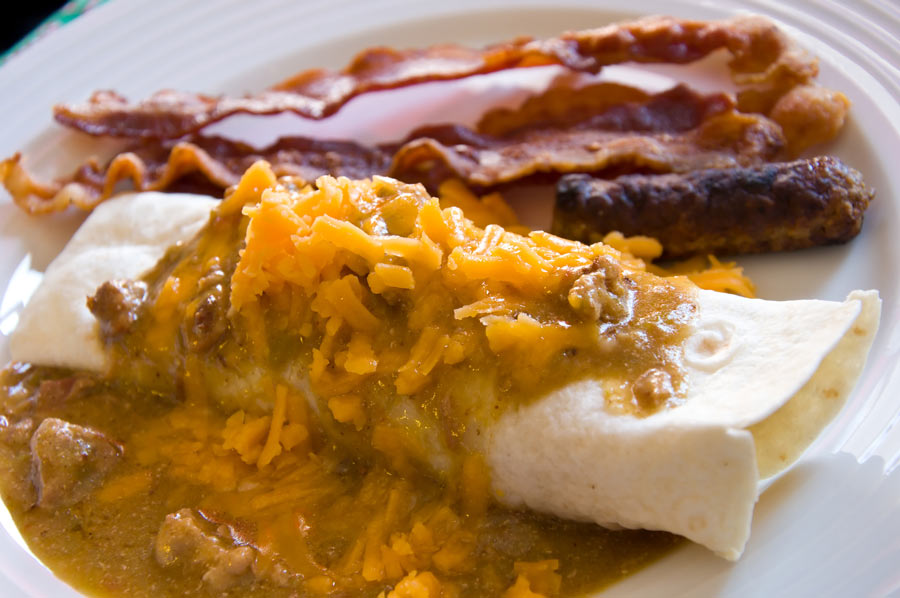 Ingredients
10 eggs
3 1/3 cups whole milk(can use part chicken broth, half and half, heavy cream, or evaporated milk)
1/2 cup butter or margarine, divided
vegetables of your choice
salt and pepper to taste
1 pound pork sausage
2 tablespoons minced garlic
1/4 cup flour
3 cups shredded cheese of your choice (can use more or less depending on preference)
10 soft flour tortilla shells
Directions
Preheat oven to 350 F.
Brown pork sausage. Remove from heat.
On low to medium heat, with1/4 cup butter or pork sausage drippings, sauté garlic.
Whisk in flour.
Gradually whisk in 1/3 cup milk, add pork sausage and seasonings.  Allow gravy mixture to come to a boil, stirring constantly.  On low, simmer and allow to thicken. Keep warm.
Meanwhile, heat a skillet on low to medium heat, then add remaining 1/4 cup butter, and let butter melt. Sauté vegetables.
Whisk eggs with remaining 3 cups milk for 30 seconds (you want them to be light and fluffy).
Add egg mixture to vegetables, then add salt and pepper. Let stand until the sides start to bubble, then start scraping at the edges and scramble.
Grease a 9 x 12 glass dish.
Pour 1 cup of the pork sausage gravy on the bottom.
Assembly each tortilla shell with egg mixture, cheese, and roll in burrito style or just roll up.
Put into greased dish and top with remaining gravy and cheese.
Bake at 350 F for 20 – 30 mins until bubbly.