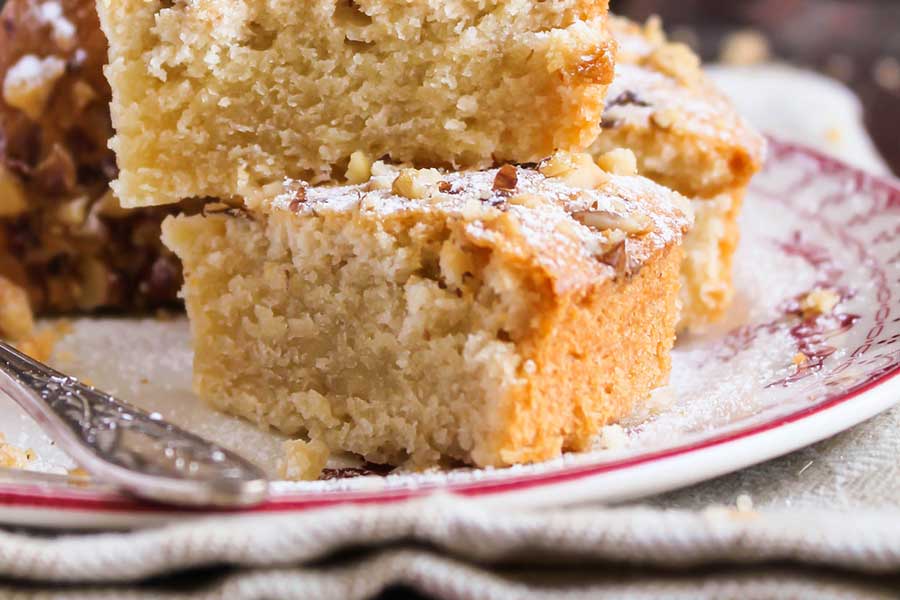 Ingredients
Cake:
3 1/4 cups sifted cake flour (not self-rising)
1 teaspoon baking powder
3/4 teaspoon salt
1/2 teaspoon baking soda
1/2 teaspoon ground cinnamon
1/2 teaspoon ground nutmeg
1/8 teaspoon ground cloves
1/2 cup butter (1 stick), at room temperature
1 cup sugar
3 eggs
1/2 cup sour cream
1 cup applesauce
2 Golden Delicious apples (about 1 pound), peeled and cut into 1/4-inch pieces
Syrup:
1/2 cup sugar
1/4 cup apple juice
1/3 cup brandy or calvados (apple brandy)
Glaze:
1 tablespoon confectioners sugar
2 tablespoons apple juice
1/8 teaspoon ground nutmeg
Directions
Heat oven to 350 degrees F. Coat 10-inch bundt pan with nonstick cooking spray.
Cake:
1.Sift flour, baking powder, salt, baking soda, cinnamon, nutmeg and cloves into medium-size bowl.
2.Beat together butter and sugar in second medium-size bowl on medium-high speed until smooth and creamy, about 2 minutes. Add eggs, one at a time, beating well after each addition. Beat in sour cream and applesauce; mixture may look curdled. On low speed, slowly add flour mixture, beating until well blended. Gently fold in apple pieces. Scrape batter into prepared pan, smoothing top.
3.Bake in 350 degree F oven for about 50 minutes or until cake tester inserted in center of cake comes out clean.
Remove cake from oven. Leave cake in pan; place pan on wire rack. Brush top of cake with half the brandy syrup. Let stand 10 minutes. Invert onto wire rack and remove pan; place rack over jelly-roll pan. Brush cake with remaining syrup; let cool completely. Top with glaze and Serve!
Syrup:
Heat together sugar, apple juice and brandy in small saucepan over medium-low heat until sugar dissolves; do not boil. Remove from heat.
Glaze: Mix sugar, apple juice and nutmeg in small bowl until smooth. Drizzle over cake. Let harden slightly.