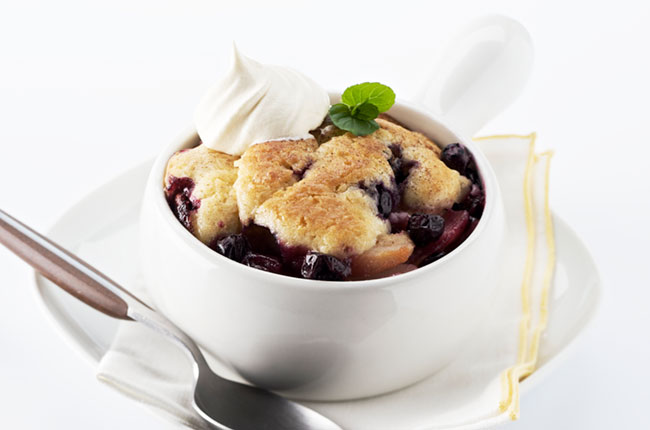 Ingredients:
2 pint fresh blueberries (1 pint for sauce, recipe below)
1-14 ounces sweetened condensed milk
2 teaspoon grated lemon peel
3/4 cup + 2 tablespoons cold butter
2 cups biscuit baking mix (bisquik)
1/2 cup firmly packed brown sugar
1/2 cup chopped nuts (optional)
Directions
Preheat oven to 325 degrees
In large bowl cut 3/4 cup butter into 1 1/2 cups biscuit mix until crumbly, add blueberries to mixture. spread in greased 9″ square pan.
In a small bowl combine remaining 1/2 cup biscuit mix & sugar, cut in remaining 2 tablespoons butter until crumbly, add nuts if desired. sprinkle over cobbler
Bake 1 hour & 10 minutes or until golden. Serve warm with vanilla ice cream & Blueberry sauce
BLUEBERRY SAUCE: in saucepan combine 1/2 sugar, 1 Tbsp cornstarch, 1/2 tsp cinnamon & 1/4 tsp ground nutmeg. Gradually add 1/2 cup water. Cook & stir until thickened. Stir in 1 pint blueberries, cook & stir until hot.