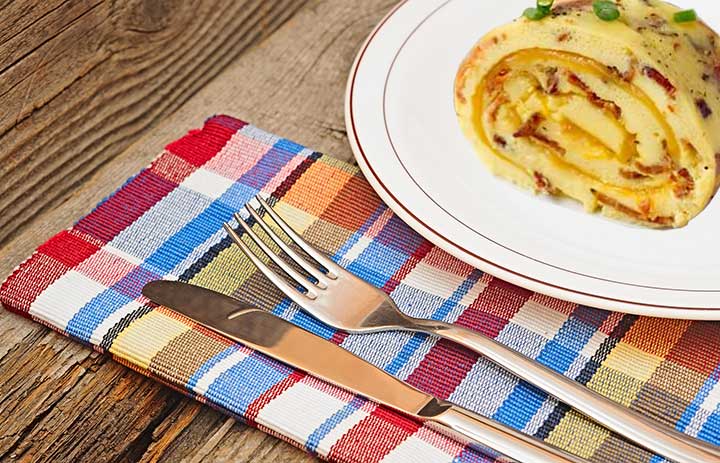 Ingredients
4 ounces cream cheese, softened
3/4 cup milk
2 tablespoons all-purpose flour
1/4 teaspoon salt
12 eggs
8 ounces bacon
6 ounces shredded cheddar cheese (1 1/2 cups)
1 green onion/scallion
Directions
Preheat oven to 375°F.  Combine cream cheese and milk; whisk until smooth. Add flour and salt; whisk to incorporate.
Gently whisk eggs until blended. Add cream cheese mixture; mix well.
Cut an 18-inch long piece of parchment paper. Press into bottom and up sides of a jelly roll pan. This will keep the egg mixture from running under parchment paper.  Pinch the corners. Pour the egg mixture into bottom of pan. Bake 30-35 minutes or until is puffy and golden.
Meanwhile, fry bacon and set on paper towel to absorb excess grease. Crumble when slightly cooled. Slice scallion into thin slices. Set aside.
Remove omelet from oven. Sprinkle with half of the cheese; top with bacon and scallion. Sprinkle with remaining cheese. Starting at one short side, roll up jelly-roll fashion, removing parchment paper as you roll. Garnish top with additional cheese and green onions, if desired. Let stand 5 minutes to allow cheese to melt. Slice roll diagonally into wedges into about six slices.
You can also substitute 8 ounces of cooked, chopped ham instead of the bacon.