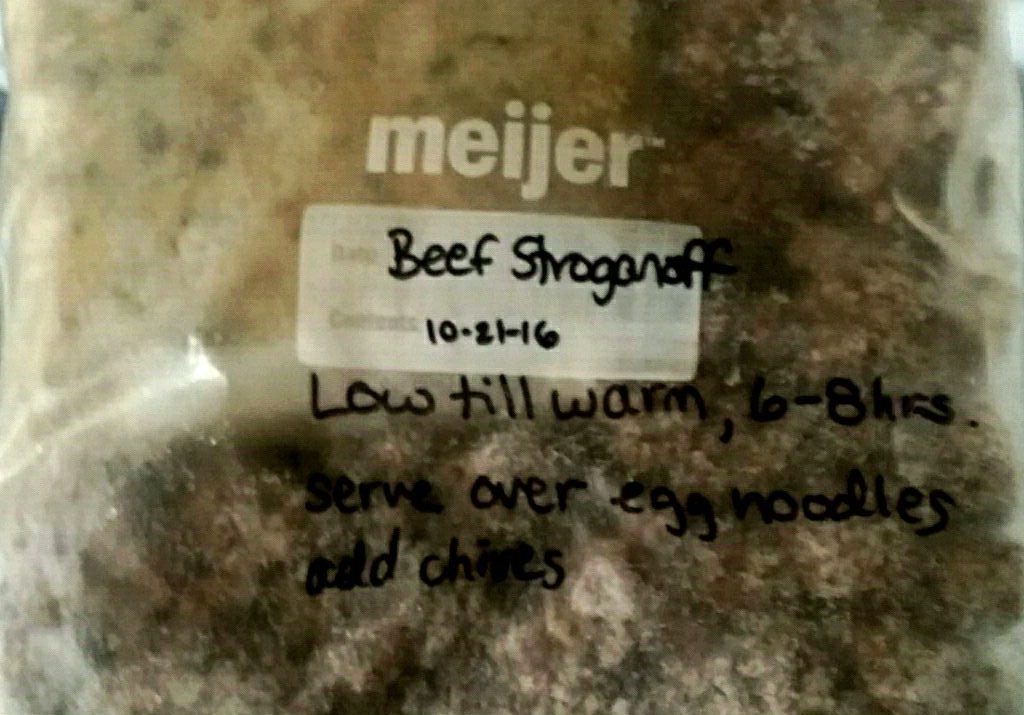 Ingredients
2 pounds ground beef or venison
Beef bouillon
Garlic powder
1/2 cup onions, diced or sliced
1 can cream of mushroom soup or homemade cream alternative
1 tablespoon worcestershire sauce
1/4 cup water
4 oz. cream cheese, softened
Salt
Pepper
Garlic
Parsley
Dill
AT TIME OF COOKING:
Chives
Egg Noodles or other pasta
Directions
Brown the ground beef or venison with onion and season with a small amount of beef boullion and garlic powder.  Keep the beef in large chunks, as it melds in the slow cooker it will come apart further.
Set the meat in the fridge to cool down if freezing this recipe. If not freezing, add meat to slow cooker.
Mix the can of cream of mushroom soup with the 1 tablespoon of worcestershire, 1/4 cup of water, half a block of softened cream cheese, and the seasonings listed above. Taste. Some choose to skip the dill, but I find it adds a zip to the stroganoff that my family loves.
If freezing this recipe, dump this sauce into a quart size ziplock. If not freezing, add sauce to slow cooker.
IF FREEZING: Prepare for the freezer by placing the smaller quart size bag of sauce inside a larger gallon size ziplock, labeled with instructions. Add the meat around the smaller bag. I lay the bag flat on the counter, push the meat into an L shape, and make space for the quart size bag of sauce.
Use the LOW setting on your slow cooker for 6-8 hours.
Do not add the pasta to the slow cooker. This should be cooked in a pot on the stove right before serving. This meal tastes best when you ladle the stroganoff sauce over fresh noodles, and garnish with chives.