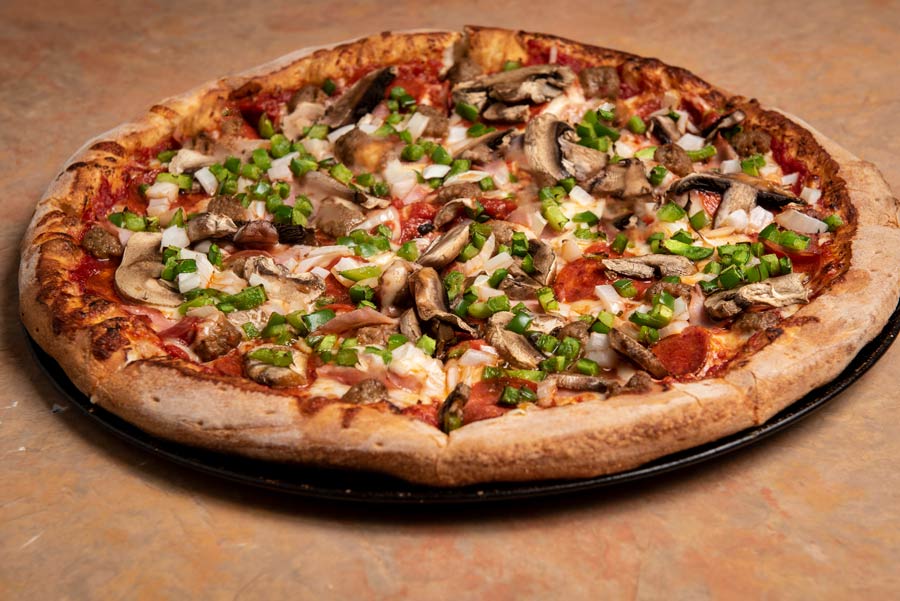 1 package yeast
1 cup tepid water
1 tablespoon sugar
2 tablespoons olive oil
1/4 cup vegetable oil
1 teaspoon salt
3 cups flour
1/3 cup olive oil
2 cups shredded mozzarella cheese
1 medium onion
1 sweet green bell pepper
1 container fresh mushrooms
1/2 teaspoon fennel seeds
1/2 pound fried bacon
Add yeast and sugar to warm water. Add the oils, salt and flour; mix well and knead on countertop until smooth (approx. 10 minutes). Add to greased bowl; cover with plastic wrap and allow to rise for 1 hour. Punch down, let rest 15 minutes, then spread onto rectangle cookie sheet and allow to rise for 30 minutes. Place in preheated 350 F oven and bake for 15 minutes. Remove from oven and spread olive oil over entire top. Add the mozzarella cheese. Sauté the onion, green pepper, mushrooms then add fennel seeds. Add the sautéed vegetables and bacon to the pizza topping. Bake an additional 15-20 minutes. Allow to cool 10 minutes before cutting into squares and serving.