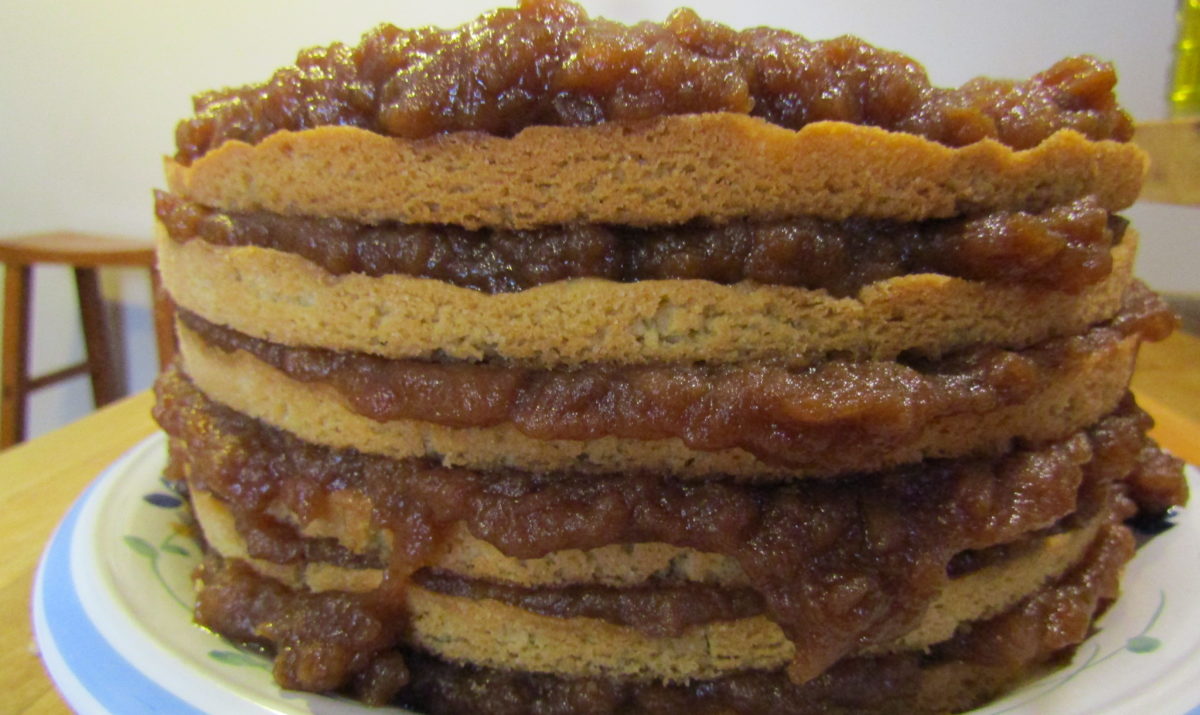 Ingredients
3 cups flour

1/2 teaspoon baking soda

1/2 teaspoon cream of tartar

1 cup brown sugar

1/2 cup shortening

1/2 cup butter

2 eggs

1 teaspoon vanilla
Filling (You could also use apple butter as a shortcut):
2 8-ounce packages dried apples

5 cups water

1 cup sugar

1 teaspoon nutmeg

1/4 teaspoon salt

1 teaspoon cinnamon

1/4 teaspoon ground cloves
Directions
Stir together flour, soda & cream of tartar. Cream sugar, shortening and butter until fluffy. Add eggs one at a time beating well after each addition. Add vanilla, then flour mixture, beating at low speed.

Put 1/2 cup of dough into each of 7 greased and floured cake pans, or as many pans as will fit in your oven. (I used 6 the last time, because that's how many pans I have)  Pat out to fill bottoms of pans (8-inch round cake pans).  Bake for 8-10 minutes, cool a couple of minutes in the pan then turn out onto racks to cool completely.  These are almost like cookies.

Simmer apples and water for 45-50 minutes or until apples are very soft. Add sugar and spices and mash the apples. While filling is still hot, stack layers, generously spreading filling on each layer before adding the next layer. Chill several hours covered. 

(I found this to be a lot of filling, and I always have some leftover which my husband eats on biscuits for breakfast)

Chill before serving.  This is best left to sit for several hours or overnight, to allow the filling to seep into the layers.  Too long, though, and the cake gets soggy, I don't try to keep it more than overnight.