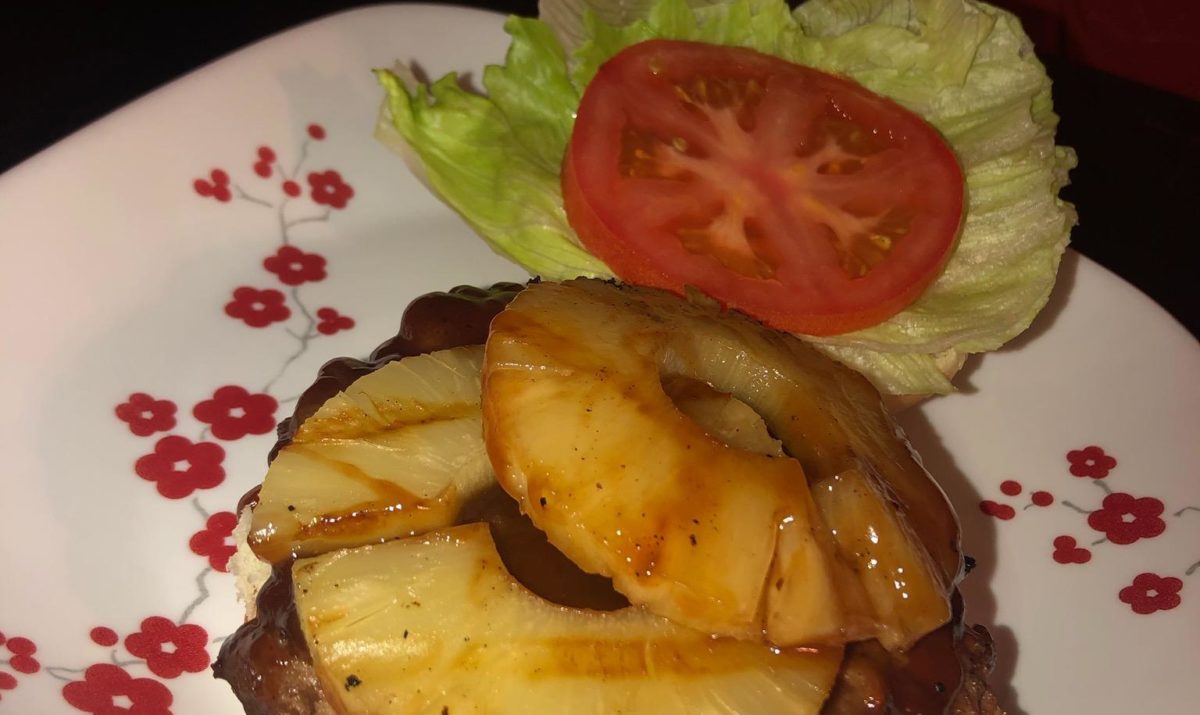 Ingredients
1 pound ground chuck
3/4 cup finely chopped bacon pieces (fully cooked)
 Pinch of salt and pepper
 8 pineapple slices (canned)
 4 slices of tomato
 4 leaves of lettuce
 4 slices of Italian (5 cheese) or cheddar cheese (optional)
 4 burger buns (sesame seed)
 1 cup bourbon (any brand)
 2/3 cup ketchup
 1/2 cup brown sugar
 2 tablespoons Worcestershire sauce
 1 tablespoon lemon juice
 1/4 cup red wine vinegar
Sauce Thickener
 2 tablespoons cornstarch
 ¼ cup cold water
 4 ice cubes
Directions
Combine ground chuck, bacon, salt and pepper.  Mix well and form into four burger patties and set aside.
Mix all bourbon sauce ingredients together in a small saucepan and cook over medium-high heat for 15 minutes, stirring occasionally.
After the sauce has reduced, mix cornstarch, water and ice cubes together in a small cup to create a slurry.  Slowly pour the slurry (holding back the ice cubes) into the bourbon sauce, stir the sauce until it comes to a light boil, remove from heat to cool (stir occasionally).
Preheat the grill to medium heat, baste the burger patties and pineapple slices with a liberal amount of bourbon sauce.  Grill burger patties over medium heat until done and the pineapple slices for two minutes on each side.  Add a slice of Italian or cheddar cheese to each burger, if desired.
Place one burger patty and 1 or 2 pineapple slices on each bun and top with tomato and lettuce.  Add additional sauce to bun, if desired.