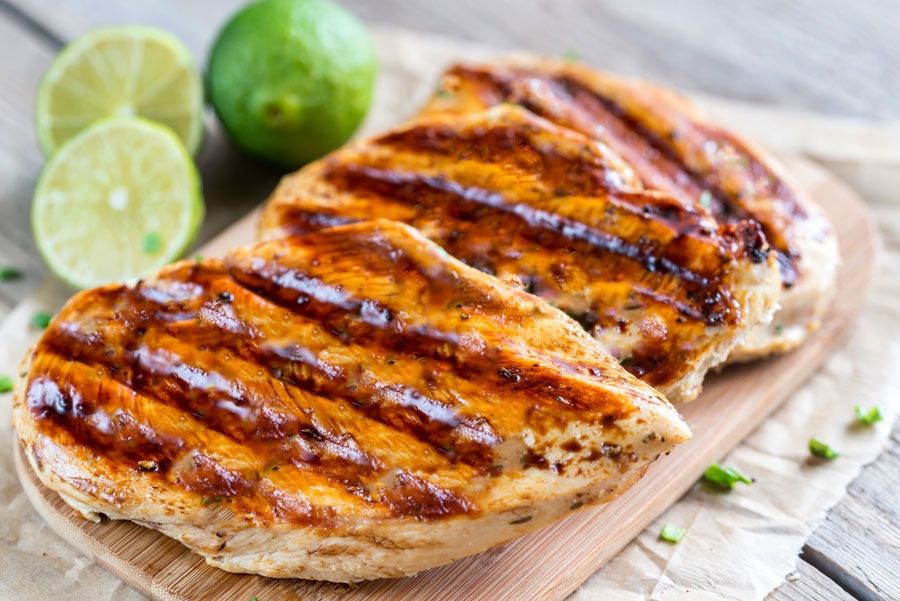 6 boneless, skinless chicken breast halves; trimmed, rinsed and patted dry.  Set aside on platter.
 1/2 cup freshly squeezed lime juice
1/4 cup tequila (Gold)
1/4 cup fresh orange juice
1 1/2 teaspoons chili powder
1 1/2 teaspoons minced garlic cloves
1 jalapeño, seeded and minced, optional
1 teaspoon kosher salt
1/2 teaspoon ground black pepper
In a large bowl, prop up a large, open zipper-top bag and add the lime juice, tequila, orange juice, chili powder, garlic cloves, jalapeño, salt and pepper. Add chicken to bag and zip the top. Massage chicken in bag to combine and place bowl in refrigerator for at least 6 hours or overnight, turning bag every few hours or at least twice. Prep grill for medium heat (charcoal or gas). Drain marinade off chicken and place chicken on grill rack. Cook chicken 5 minutes, then turn and grill another 5-8 minutes or until juices run clear when chicken is pierced, or internal temperature of chicken is 160 F. Move chicken to clean platter and let rest, covered with foil, about 5 minutes, to allow juices to set.  Garnish with lime wedges for squeezing over chicken.  Serves 6.
Mary Card
Petoskey, Michigan