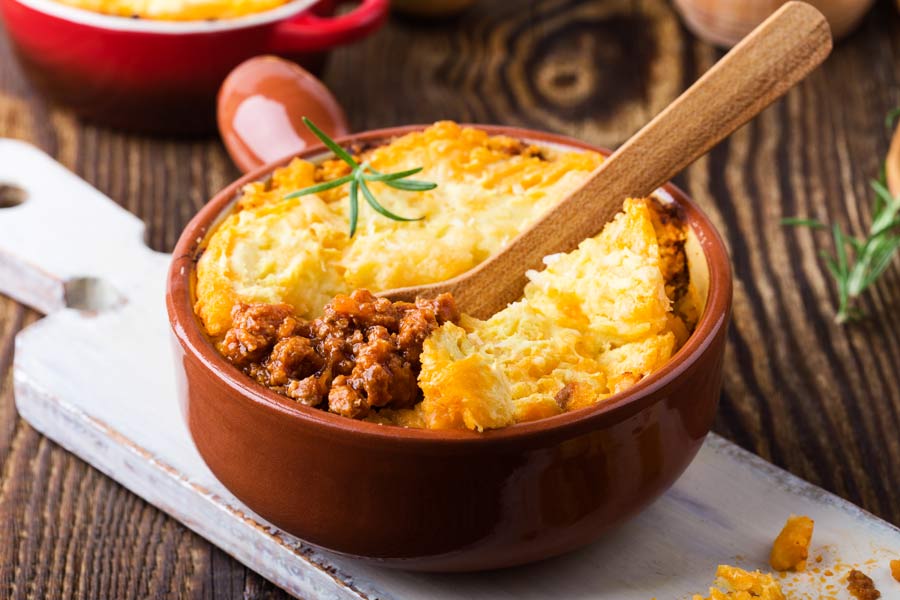 Ingredients
4 large russet potatoes, baked
4 tablespoons butter + 1 tablespoon melted butter, divided
1/4 cup milk
1/4 cup sour cream
salt and pepper
1/4 cup chopped chives
1 small carrot
12 ounces ground beef
2 tablespoons Worcestershire sauce
1 tablespoon tomato paste
1 teaspoon thyme leaves
1/3 cup frozen peas, thawed
1 cup water
Directions
Preheat oven to 400 F.
In a skillet, melt 1 tablespoon butter over medium heat.
Add carrots and cook until tender.
Add ground beef, breaking it up as it cooks, until browned.
Stir in Worcestershire, tomato paste, thyme and 1 teaspoon salt.
Add 1 cup water and bring to a boil, then reduce heat.  Cook until beef and carrots are coated with sauce.  About 1 minute.
Stir in peas.
Cut 1/4 inch off top of potatoes, along the length.
Scoop out center, mash, mix with milk, sour cream, 2 tablespoons butter and 1 teaspoon salt.
Fold in chives.
Place bowls on baking sheet.
Fill bowls with beef mixture.
Top with potato mixture.
Cook in oven until top of mixture is browned.
Cut remaining butter into 4 slices, place one on top of each bowl.
Enjoy!!