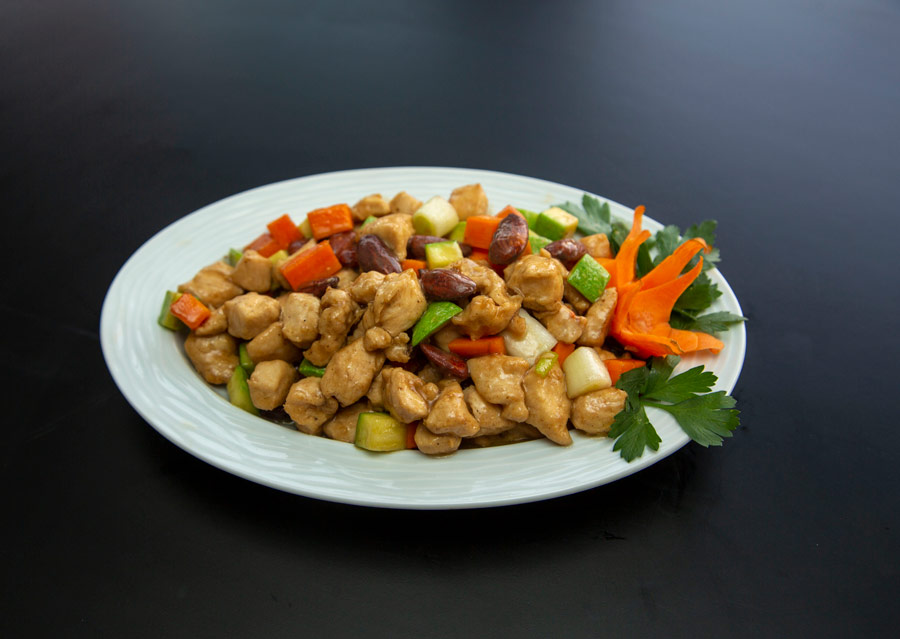 Ingredients:
1 1/2 cups chicken broth, divided
2 tablespoons soy sauce
4 teaspoons cornstarch
1 teaspoon sesame oil
3 tablespoons vegetable oil
1/3 cup whole roasted almonds
1 pound boneless, skinless chicken breast (I prefer to use pre-roasted chicken, white and dark meat, cut from bone), cut into 1/2 inch wide strips
2 cloves garlic, finely minced
8 ounces green beans (fresh or frozen), cut into 2-inch pieces
4 large carrots, peeled and sliced diagonally 1/4-inch thick
Directions
In a cup, combine 1/2 cup broth, soy sauce, cornstarch, and sesame oil; set aside.
In a wok or large skillet, heat vegetable oil over high heat. Add almonds and sauté until lightly browned, 1-2 minutes.
Using a slotted spoon, transfer the almonds to a medium-size bowl; set aside.
Add the chicken strips to the wok; stir-fry until lightly browned (skip step if using cut-up pre-roasted chicken.) Using a slotted spoon, add the chicken to the almonds. Reduce the heat to medium. Add the chopped garlic to the wok and stir-fry 10 seconds. Stir in the green beans, carrots, and remaining 1 cup chicken broth. Cover the pan and cook the vegetables until crisp-tender, about 5 minutes. Stir the cornstarch mixture and add it to the vegetables; cook until the sauce is thickened and bubbly, about 1 minute. Stir in the chicken and almonds. Cook until just heated through, and serve immediately.
Serve over hot brown rice, egg noodles or white rice, with a dash of soy sauce and sesame oil.