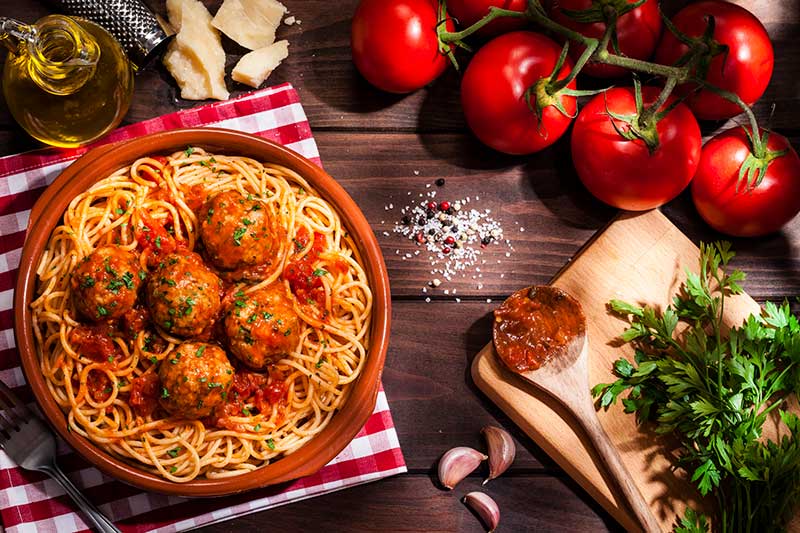 Ingredients
5 cups tomato Sauce
3/4 pound ground Beef
1/2 cup bread Crumbs
1 egg, beaten
1 tablespoon Half-and-half
2 tablespoons grated Parmesan Cheese
2 teaspoons minced Garlic
1/4 cup finely chopped Parsley
1/4 cup finely chopped Basil
1/2 teaspoon grated Lemon rind
1/4 teaspoon grated Nutmeg
1/4 cup olive oil
1 pound Spaghetti cooked to desired tenderness
Salt and Pepper to taste
Directions
Put tomato sauce in large sauce pan and bring to a low boil. Then let simmer.
Place meat in a mixing bowl and add the crumbs, egg, half-and-half, parm. cheese, garlic, parsley, basil, lemon rind, nutmeg, salt, and pepper. Blend well with fingers to ensure it's completely mixed.
Shape the mixture into equal sized balls.
Heat the oil in a skillet big enough to hold the meatballs without crowding, and brown them on all sides. As they finish browning, add them to the simmering tomato sauce, and let simmer another 15-20 minutes.
As the meatballs are simmering in the tomato sauce, boil the spaghetti noodles.
When noodles are done serve the meatballs and sauce over the noodles.
Enjoy!