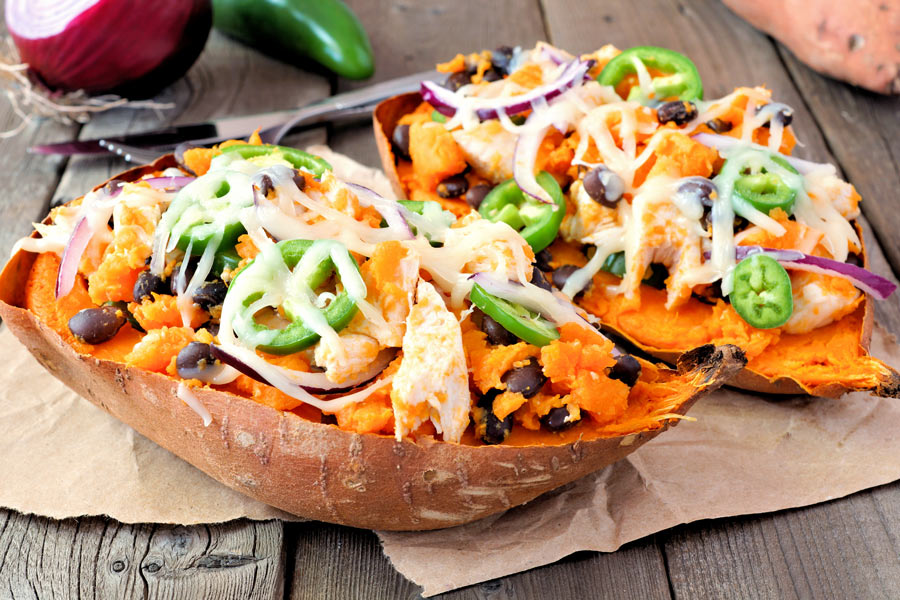 Ingredients
4-6 medium sweet potatoes
1 1/2 cup (1 can) corn, rinsed and patted dry
1 1/2 cup prepared black beans (1 can, rinsed and drained)
1 small onion, diced
1 bell pepper, diced
1 jalapeno, diced
1/4 cup greek yogurt
taco seasoning, as desired
shredded cheese, as desired
Directions
Using an Instant Pot, place the trivet inside the Instant Pot, add 1 cup of water, and place potatoes on the trivet. Lock the lid, and turn the vent to the "sealing" position. Cook on high for 16 minutes (using manual setting).  Naturally release for 10 minutes, then quick release the rest of the pressure. Alternatively, bake sweet potatoes in the oven at 350 degrees for 45-60 minutes. 
Meanwhile, place corn in a cast-iron skillet over medium-high heat with no butter or oil. Season with salt and taco seasoning. Roast corn for several minutes, stirring occasionally until corn is brown and roasted on the outside. Set aside in a medium bowl.
Sauté onion, bell pepper, and jalapeño in butter or oil over medium heat. Add to bowl with corn, and mix in black beans.
When sweet potatoes are fork-tender, remove and set on a large baking sheet. Let cool for 5-10 minutes.
Cut sweet potatoes in half. Scrape the flesh of the sweet potatoes out, leaving the skins intact. Leave a thin layer of potato inside the skin to hold it together.
In a large bowl, mix the flesh of the sweet potatoes with greek yogurt and additional taco seasoning, if desired. Add corn/bean/pepper mixture to sweet potatoes and stir gently.
Scoop the filling into the skins and top each with shredded cheese.
Broil for about 5 minutes or until cheese is melted.