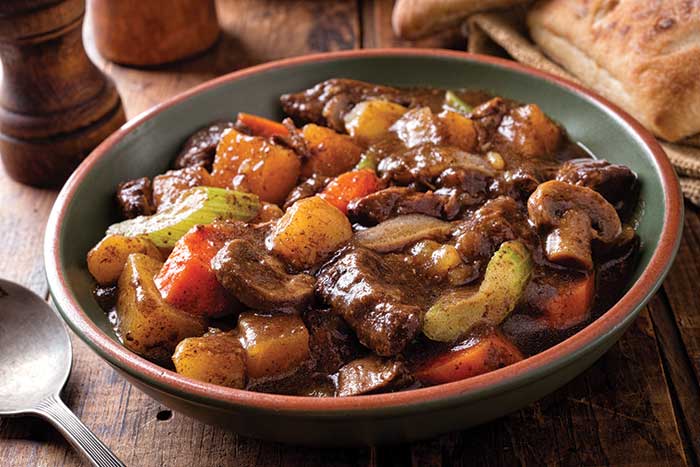 This soup recipe from Kim Springsdorf, executive director of Steam Railroading Institute, can be made with whatever yummy things you have in the refrigerator. Be creative, this is a soup that is never the same. Let it simmer and enjoy!
Ingredients
1 pound bacon
2 pounds ground beef, stew meat or both
1 onion, finely diced
4 ribs of celery, sliced thin
2 carrots, halved and sliced
6–8 whole garlic cloves, minced
4 cups beef broth
1 pound potatoes, baked, cooled and diced
2 cups fresh mushrooms
1 (15 ounce) can diced tomatoes
2 cups dried kidney or great northern beans
4 tablespoons flour
salt, fresh ground pepper, garlic powder, cumin and chili powder to taste
optional: olive oil, Parmesan cheese, cream cheese and whipping cream
Directions
Cook bacon and beef in soup stockpot. Set aside.

Sauté vegetables in the grease, until tender. Add olive oil if needed. Add flour to vegetables and mix until thick. Slowly add broth and bring to a boil to thicken.

Add remaining ingredients and simmer on low for approximately 3 hours—

be sure to stir often. 

Add shredded Parmesan cheese, cream cheese or heavy whipping cream at the end of your cook time for a creamy finish.
Serving suggestion: For individual servings, you can add toasted bread, top with cheese and put soup bowls under the broiler just long enough to melt the cheese. 
The soup is best served with 12 inches of snow and a bonfire in the great outdoors!
---

Read the full story about the Steam Railroading Institute in Country Lines.