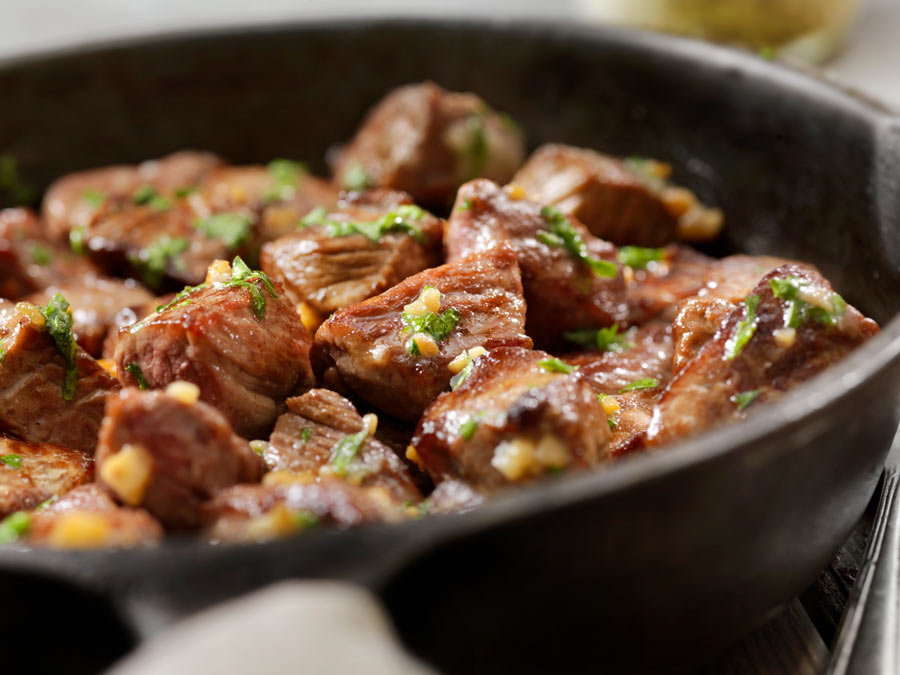 1 1/4 pounds sirloin, cubed
2 tablespoons butter
1 tablespoon vegetable oil
1 clove garlic, minced or pressed
3/4 pound fresh mushrooms, sliced
1/3 cup beef broth
1/3 cup dry red wine or water
1 teaspoon soy sauce
1 tablespoon dijon-style mustard
1 teaspoon cornstarch
1/2 cup whipping cream
chopped parsley
Preheat oven to 300 F. In a wide skillet, brown the meat in 1 tablespoon of butter and oil. Add the garlic. As pieces brown, remove to casserole dish with a lid. Add remaining 1 tablespoon butter to the skillet. Sauté the mushrooms for 1-2 minutes, then add to the meat. Cover. Bake slowly at 300 F for 45-50 minutes until meat is tender. Meanwhile, add broth, wine or water and soy sauce to the pan in which the meat was browned. Boil, stirring up the brownings until reduced to about half. Blend the mustard, cornstarch, and cream. Add to the pan and boil until thick. Pour off juice from meat into the sauce in the pan. Boil, while whisking, until smooth and thick. Add the meat to the sauce and stir in. Sprinkle with parsley. This can be served over white rice or wide egg noodles. Makes 4 servings.