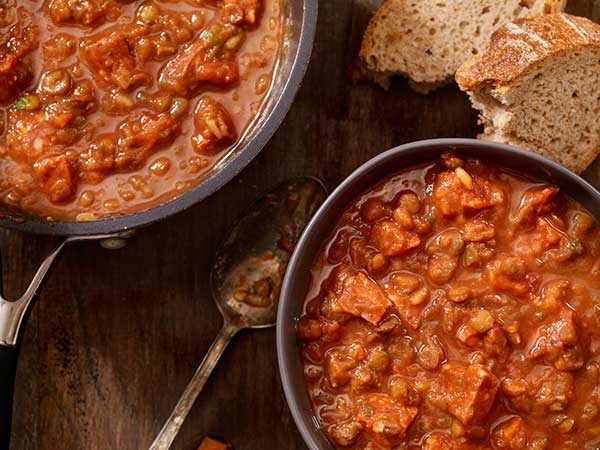 Ingredients
1  16-ounce can pinto beans
2  16-ounce cans navy beans
2  16-ounce cans black beans
1  16-ounce can kidney beans
3 pounds cooked turkey, cubed  (ham could be substituted)
2-3   6-ounce packages frozen shoepeg corn
28-ounce can diced tomatoes
1 cup onion, diced
4-5 stalks celery, diced
3 1-ounce packages ranch salad dressing mix
1   1/4 ounce package taco seasoning mix
3  14 1/2- ounce cans chicken broth
salt and pepper to taste
Directions
Drain and rinse all beans; combine with remaining ingredients except broth in a 6-1/2 quart slow cooker.  Mix thoroughly.
Add enough broth to cover ingredients.
Cover and cook on low setting for 8 hours or on high setting for 4 hours.
Serves 10-12
NOTE:  One more can each of pinto and kidney beans can be used if your cooker is large enough.