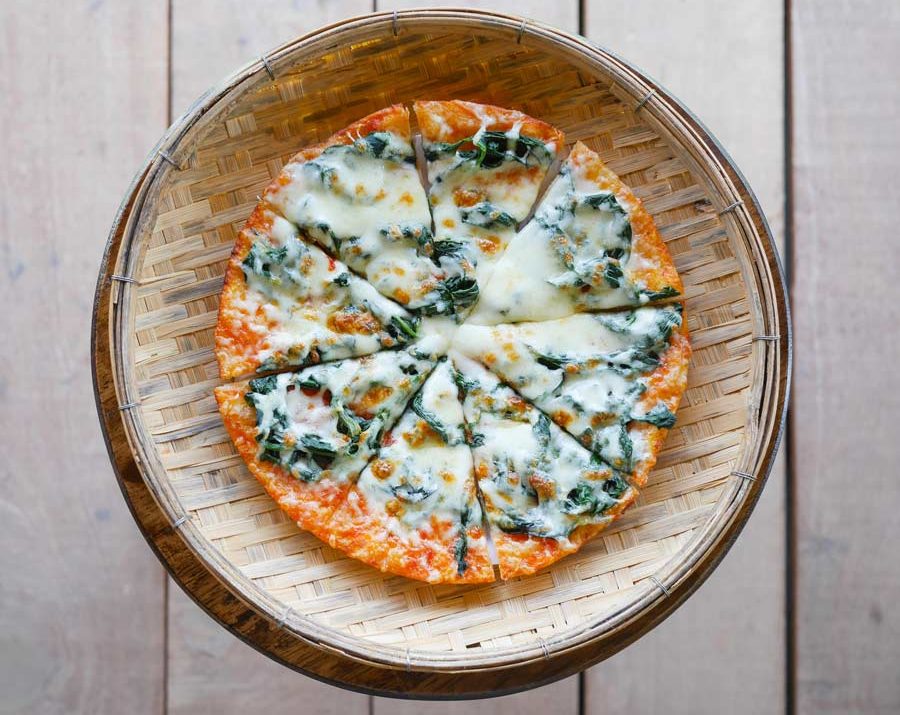 basic pizza dough, or 2 pounds purchased dough, or 2 large or 4 to 6 individual-sized pre-baked crusts
4 pounds spinach, tough stems discarded, or 2 packages chopped frozen spinach
2 tablespoons minced or pressed garlic
6 tablespoons golden raisins, soaked in water to cover until plumped, about 15 minutes, then well drained
6 tablespoons pine nuts
1/4 cup unsalted butter, melted
salt
freshly ground black pepper
vegetable oil for brushing, if using a pizza screen or pizza pan
cornmeal for dusting, if using a pizza peel
olive oil, preferably extra-virgin, for brushing crust
4 cups freshly shredded Italian Fontina cheese, about 20 ounces
Directions
Prepare the basic pizza dough, set it aside to rise, and preheat oven to 500 F. If using purchased dough or pre-baked crusts, set aside.
Wash the spinach well. Place the damp spinach in a sauté pan or heavy skillet and cook, stirring frequently, over high heat until the spinach wilts and turns bright green, about 5 minutes. Drain in a colander and squeeze out as much liquid as possible. Transfer the spinach to a bowl and add the garlic, raisins, pine nuts, and melted butter, salt and pepper to taste. Toss to blend and set aside.
Brush the pizza screen or ventilated pizza pan with vegetable oil or dust with cornmeal if using a pizza peel. On a floured surface, roll out the dough and shape. Place on prepared pan or peel. Brush the raw dough or pre-baked crusts all over with olive oil, then top with the cheese, leaving a 1/2 inch border around the edges.
Distribute the spinach mixture over the cheese. Transfer the pizza to the preheated oven and bake until the crust is crisp and the cheese is bubbly, about 8 minutes for pre-baked crusts, or 10-15 minutes for fresh dough. Remove from the oven to a cutting tray and lightly brush the edges of the crust with olive oil.  Slice and serve. Serve immediately.