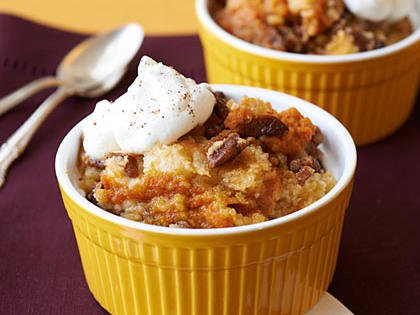 Ingredients
1-15 ounce can pumpkin
1 cup evaporated milk
1 cup sugar
1 teaspoon vanilla
1/2 teaspoon ground cinnamon
1 (18.25 ounce) package butter flavored yellow cake mix
1 cup chopped pecans
1 cup melted butter
whipped cream (optional)
Directions
Stir together first 5 ingredients.  Pour into a lightly greased 13X9 baking dish.
Sprinkle cake mix evenly over pumpkin mixture.
Sprinkle evenly with pecans.
Drizzle butter over pecans
Bake 350 for 1 hour to 1 hours 5 minutes or until golden brown.
Remove from oven and let stand 10 minutes before serving.
Serve with Whipped cream if desired.