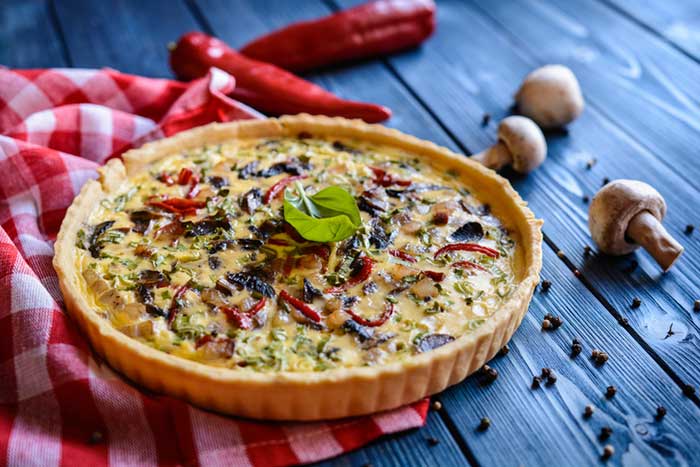 Ingredients
2 medium potatoes, peeled & sliced
1/2 cup ramps chopped
1/2 cup roasted red bell pepper chopped
1/4 cup morel mushrooms coarsely chopped
1/4 cup blanched asparagus chopped
3/4 teaspoon dried thyme
8 strips bacon cooked crisp
8-10 large eggs
1/2 cup half & half
1/4 teaspoon salt
1/4 teaspoon ground pepper
Pinch of nutmeg
4 ounces gruyere cheese grated
9-inch pie pan lightly greased
Directions
Preheat oven to 350° Blanch potatoes in salted, boiling water for 1 1/2 min.
When cool, place a single layer of potatoes in pie dish (slightly overlapping.) Stand up slices (also overlapping) around edge.
Heat 2 Tbsp of oil in lg. skillet over med- high heat. Add Ramps, red pepper, morels, asparagus & thyme and saute 5 min. Spoon mixture on top of potatoes. Crumble bacon on top of veggie mix. Spread cheese on top.
Whisk together eggs, half & half, salt, pepper, & nutmeg. Whisk until color lightens. Pour into pie dish. Bake for 35 min. Cool 25 min. & serve into wedges.