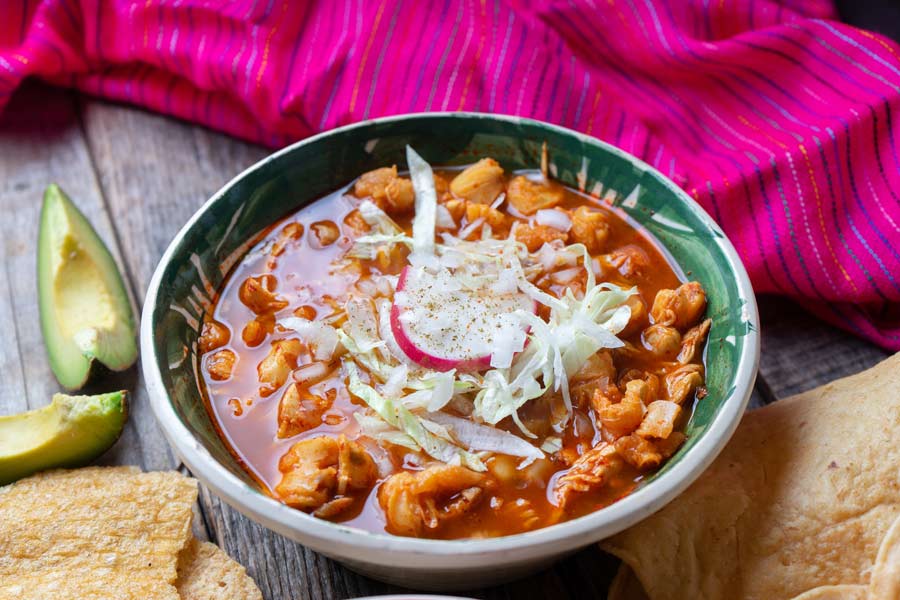 Ingredients
4 cups canned white or yellow hominy (1 28-ounce can or 2 14-ounce cans)
8 cups water
2 pound pork tenderloin cut into 1 inch chunks
2 teaspoon dried oregano
2 

chipotle peppers

in adobe sauce, cut into pieces
2 tablespoons ground cumin
2 large onions, peeled and chopped
2 tablespoons minced garlic
juice of 2 limes
1 tablespoon salt
ground pepper, to taste
4 tablespoons chopped cilantro
1 (28-ounce) can diced tomatoes, drained
Toppings (any or all of the following): additional chopped cilantro, avocado chunks, grated sharp cheddar cheese, sliced radishes, shredded lettuce or cabbage, chili peppers
Directions
1. Drain corn and add to crock pot. Add water, pork, oregano, chipotle, cumin, onion, garlic, lime, salt and pepper. Turn heat low. Cook 8-10 hrs. covered until pork is falling apart.
2. About 15 minutes before serving, add tomatoes and heat through.
3. Stir in chopped cilantro just before serving. Ladle into bowls and let diners customize their bowl with the assorted toppings.