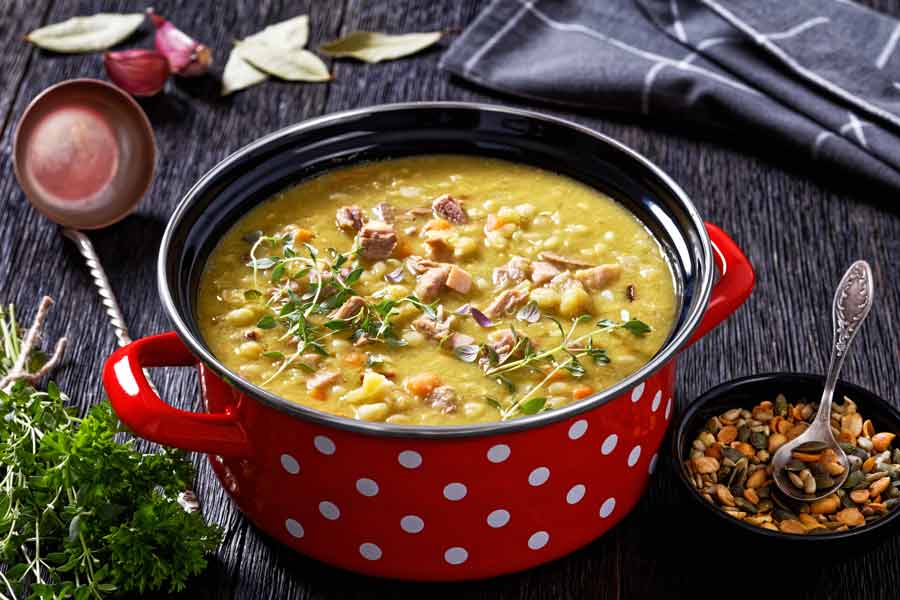 4 slices bacon, cut into pieces
1 clove garlic, finely chopped
1 large onion, chopped
3 celery stalks, chopped
3 carrots, chopped
8 cups water
1 pound yellow or green split peas
1 meaty ham bone
1 bay leaf
1 cup ham, chopped
1 large rutabaga, peeled & cut in 1/2″ pieces
salt & pepper to taste
Cook cut bacon in a large pot over medium heat. Once cooked, add the next 4 ingredients. Cook until veggies soften, about 2-4 minutes. Add water, peas, ham bone, and bay leaf to vegetables. Bring to boil; skim foam from top. Add chopped ham and rutabaga. Return to boil, then reduce heat to simmer. Let simmer for 1 hour. Remove ham bone and let cool about 5 minutes or until able to handle. Remove bay leaf. Pull any remaining meat from bone and add back to pot. Season to taste.