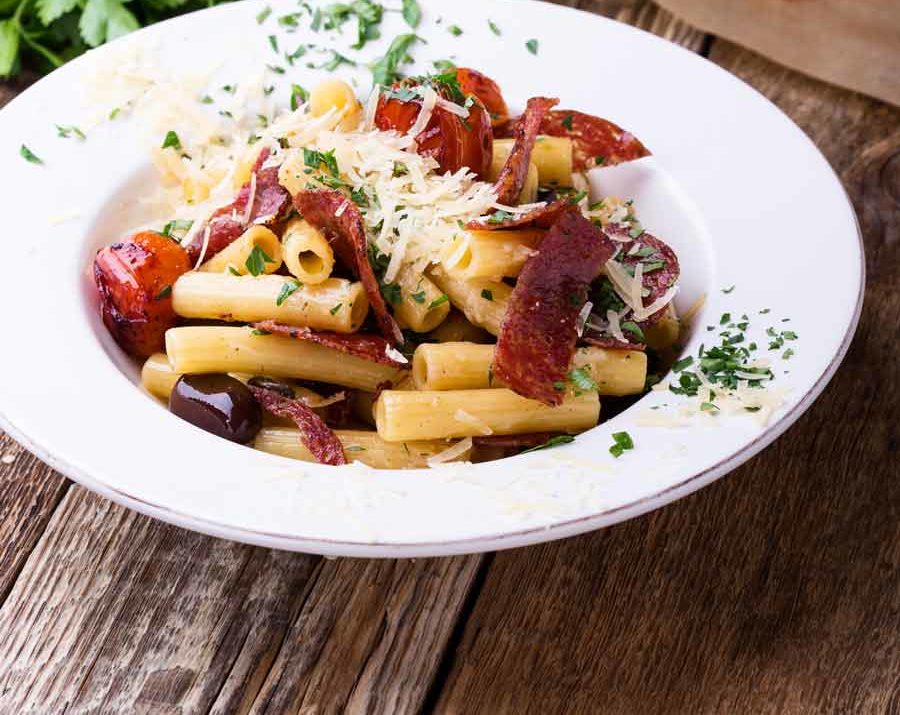 Ingredients
1 small bell pepper, chopped
1 small onion, diced
1 cup sliced mushrooms
1 can sliced black olives or green olives
2 teaspoons minced garlic
1 package powdered spaghetti sauce
1 3/4 cup water
1 (15-ounce) can pizza sauce
1 large box Mostaccioli noodles, cooked and drained
1 package turkey or regular sliced pepperoni
1 cup shredded pizza-style cheese
Directions
In a large ovenproof skillet, sauté pepper, onion, mushrooms and garlic. When cooked, stir in spaghetti sauce, pizza sauce, sliced olives and water. When thoroughly combined, add pepperoni. Bring to a boil, reduce heat and simmer for 10 minutes. Add cooked and drained pasta. Stir well then add shredded cheese and sir well again.
Can be served right away or baked in the oven at 350 for 15 min.
You can jazz up this recipe by using any of your favorite pizza toppings mixed into the sauces before adding the pasta.