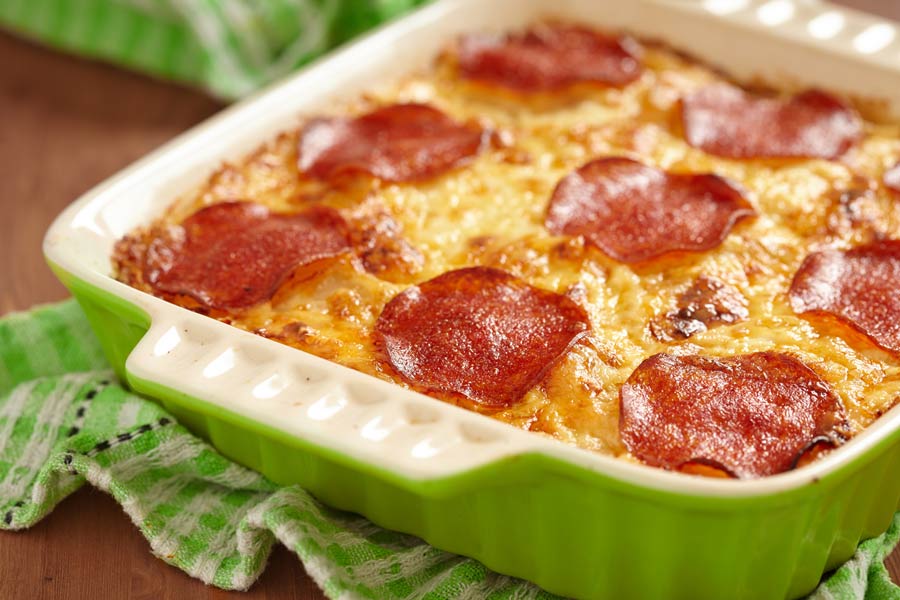 Ingredients
2- 3 cups macaroni or penne noodles
1 jar favorite tomato pasta sauce
1 – 1 ½ pounds lean ground beef
1 tablespoon olive oil (or vegetable oil)
8 ounces mushroom slices
1 green or red bell pepper, sliced thin
1 tablespoon oregano and basil spices
Optional: 1 cup thinly sliced red or sweet onion
2 cups shredded mozzarella cheese
½ – ¾ cups pepperoni slices (or more to taste)
Directions
 Heat oven to 350 F.
Spray a 13×9 inch baking dish with cooking oil.
Cook pasta according to package directions and drain; return to bowl. Add pasta sauce & mix together.
Cook beef until brown, about 5-7 minutes in a deep pasta pan. Drain and add pasta and sauce.
In a skillet, heat olive oil and add mushrooms, onion, bell pepper, and spices. Cook until soft, approximately 7 minutes.
Stir vegetables into pasta/sauce/beef mixture. Stir in 1 cup of mozzarella cheese. Pour into prepared baking dish.
Top with pepperoni slices and sprinkle with remaining cheese.
Spray a foil sheet with cooking oil and cover the baking dish, spray side down.
Bake 25-30 minutes or until heated thoroughly and cheese topping is melted.
Remove foil, let rest 5 minutes then serve.
This dish is excellent for re-heating in the oven with the foil covering.