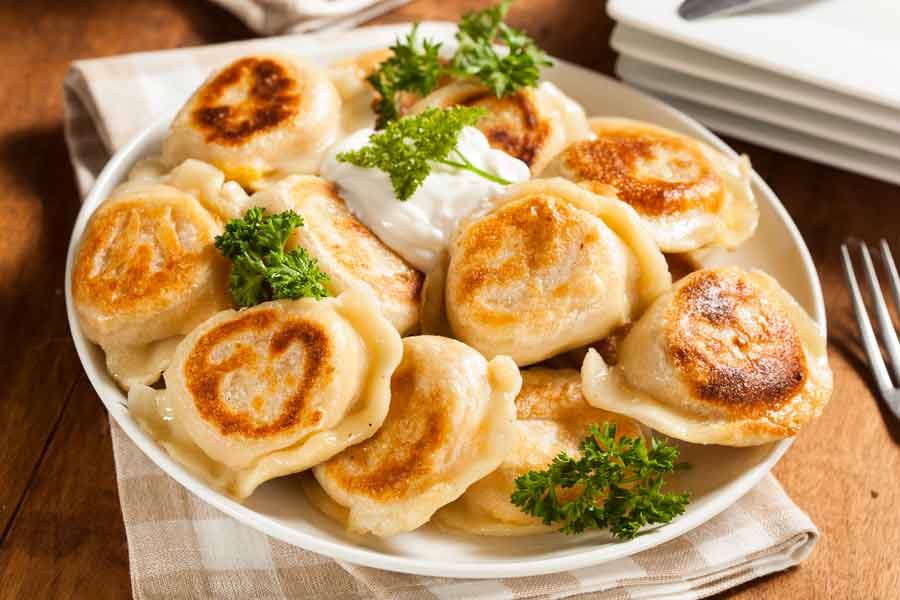 Pierogi:
2 eggs
2 cups flour
1/2 cup water
1/2 teaspoon salt
Mound flour on flat surface. Make a hole in the center, volcano like. Drop eggs into hole and cut into flour with a knife. Add salt and water; knead until firm. Let rest 10 minutes covered with a towel in a warm bowl. Divide dough in halves and roll thin. Cut circles with a large biscuit cutter. Place a small spoonful of filling (choice of cheese or meat below) a little to one side on each round of dough. Moisten edge with water, fold over and press edges together firmly. Be sure they are sealed. Drop into boiling, salted water. Cook gently, 3-5 minutes. Lift out carefully with slotted spoon.
Cheese Filling:
1 cup cottage cheese
1 teaspoon melted butter
3 tablespoons sugar
3 tablespoons currants
1 egg, beaten
1/4 teaspoon cinnamon
Cream together cottage cheese and butter; add remaining ingredients and mix well.
Meat Filling:
1 onion, finely chopped
2 tablespoons butter
1/2 cup mushrooms, chopped
1/2 cup cooked beef
salt and pepper
2 tablespoons sour cream
Fry onion in butter until transparent; add mushrooms and meat. Season to taste with salt and pepper. Mix in sour cream; cool before filling.