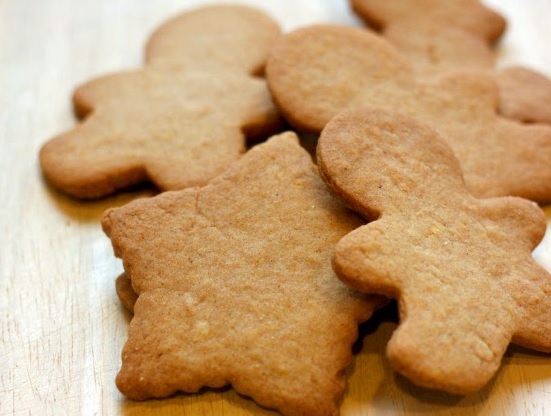 Ingredients
3 1/4 cups flour
2 teaspoons baking soda
3 teaspoons cinnamon
3 teaspoons ginger
3 teaspoons cloves
1 cup unsalted butter
1 1/2 cups sugar
1 tablespoons corn syrup
1 egg
Juice and grated zest of one orange (hint: it's easier to zest the orange before juicing it)
Directions
In medium bowl, mix flour, baking soda, cinnamon, ginger, and cloves. Set aside
In large bowl, cream together butter and sugar.
Add corn syrup, egg, orange juice, and orange zest and mix well.
Add dry ingredients and mix well.
Chill dough for at least 2 hours.
Preheat oven to 400° F.
Working with about 1/3 of the dough at a time, roll out fairly thin (about 1/8 inch) on a lightly floured surface. Cut dough into shapes* and transfer to baking sheets.
Bake cookies until they just begin to brown at the edges, about 7-10 minutes depending on thickness.
Let cool for several minutes on the baking sheet, then transfer to cooling racks.
*Traditional shapes for pepparkakor include stars, hearts, and Christmas trees. Try to avoid cookie cutters with small sections like legs or heads, as they are likely to break off when cookies are removed from the pan.