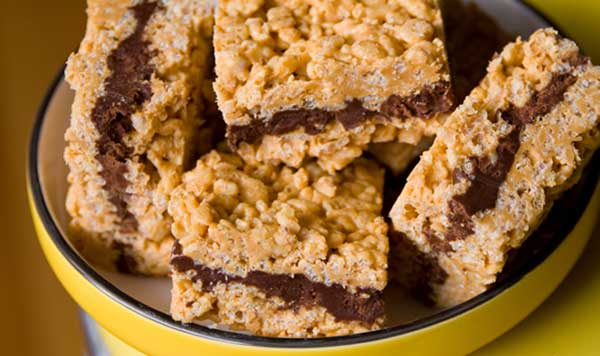 Ingredients
6 cups rice crispy cereal
1 10-ounce package peanut butter chips
1 cup peanut butter
1 12-ounce package chocolate chips
1 cup confectioners sugar
1/2 cup butter or margarine
2 tablespoons milk
Directions
Line a 9 x 13 pan with aluminum foil: grease foil.
In a saucepan combine peanut butter chips and peanut butter.  Stir constantly, cook over low heat until mixture is smooth.
Pour in cereal until well coated.  Firmly press 1/2 of mixture into prepared pan.
In another saucepan, combine chocolate chips, confectioners sugar, butter and milk.  Stirring constantly, cook over low heat until smooth.
Spread chocolate mixture over cereal in pan.  Firmly press remaining cereal mixture on top of chocolate.
Chill 30 minutes or until set.
After it is set, let come to room temperature and then cut into squares.  Store in airtight container.