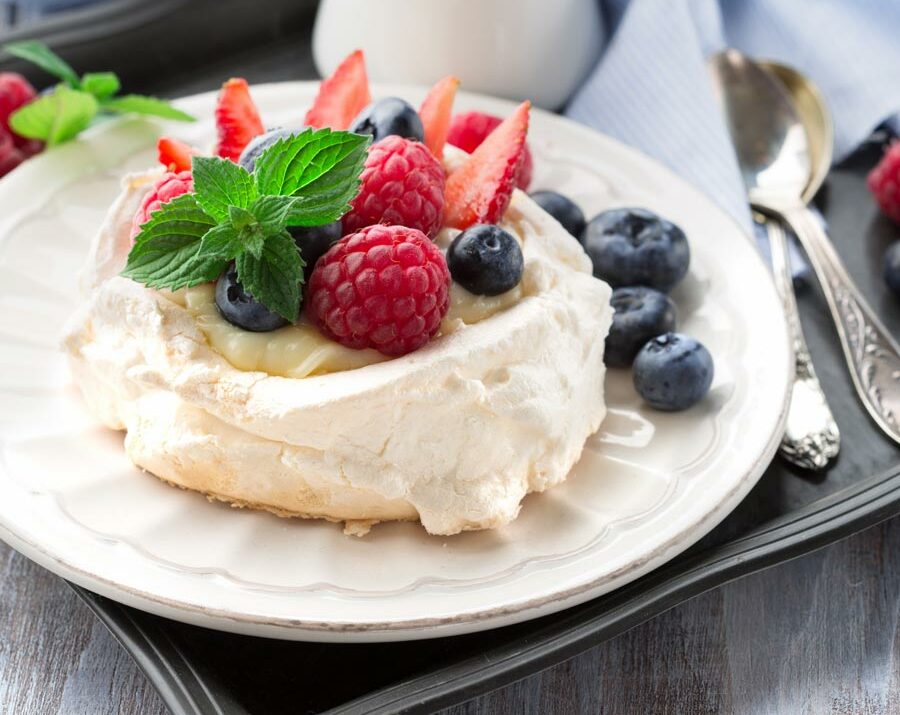 4 egg whites, at room temperature
1-1/4 cups white sugar
2 teaspoons vanilla extract
1 teaspoon lemon juice
2 teaspoons cornstarch
1 pint heavy whipping cream
fresh fruit (strawberries, blueberries, raspberries, mandarin oranges, etc.)
Preheat oven to 300 F. Line a baking sheet with parchment paper. In a large bowl, beat the egg whites until stiff peaks form. Add sugar in one tablespoon at a time and beat until thick and glossy. Gently fold in vanilla, lemon juice, and cornstarch. Spoon mixture either in one large 'pie' on the parchment paper, or several individual piles. When cooked, the mixture does not grow so whatever size you decide is the size it is going to be. Working from the center of the pile(s), spread the mixture out a bit, building up the edges slightly to leave a slight depression in the center. Bake for 1 hour and cool on a wire rack. While cooling, beat heavy whipping cream until stiff peaks form. Once meringue(s) has cooled remove paper and fill the center with the whipped cream and top with choice of fruit. I had this on a mission trip to Ireland and the Irish family used mandarin oranges to top the pavlova.