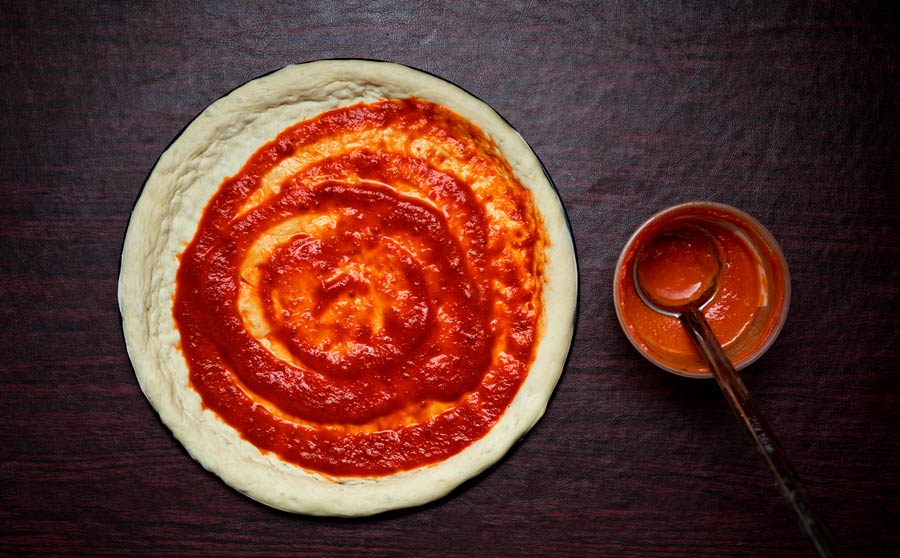 Pizza Sauce
1 (15-ounce) can tomato sauce
1 (6-ounce) can tomato paste
1/8 teaspoon dried basil
1/4 teaspoon rosemary
1/8 teaspoon garlic powder
1 teaspoon grated Parmesan cheese
1/2 teaspoon sugar
1 dash cayenne pepper
1/4 teaspoon Italian seasoning
1 dash white pepper
Simmer all ingredients in small saucepan until slightly thickened, approximately 10-20 minutes. For thinner sauce, cover while simmering and replace can of paste with sauce. For thicker sauce, use more Parmesan and simmer uncovered. Pizza sauce is best if refrigerated overnight. Yield: 1 14-inch pizza. Sauce can be used for any pasta dishes calling for jarred pizza sauce (I use for pizza lasagna). Can also be made in larger batches and canned processing for 40 minutes in pint jars.
Dough recipe
8 ounces water
1/2 teaspoon salt
2 tablespoons olive oil
2 teaspoons honey
3 cups all-purpose flour
1/2 teaspoon Italian seasoning
1/2 teaspoon garlic powder
2 teaspoons Parmesan cheese
1-1/2 teaspoon active dry yeast
Dough can be made in bread maker or by hand. Mix first 9 ingredients – if using bread maker follow directions for bread maker. If mixing by hand, mix first 9 ingredients until dough forms and spread on flour sprinkled counter and knead for approximately 6-10 minutes. Makes crust for two 14" pizzas. When dough is ready – brush hands with olive oil and place dough in oil brushed bowl in warm area, and let rise for an hour.  At this point either refrigerate or freeze till needed. If ready to bake, prepare pizza pan and place olive oil (or pat of butter) on pan and melt. Once spread over pan, sprinkle pan lightly with Parmesan cheese and cornmeal. Spread dough and pre-bake until dough looses wet look. Take out of oven, add sauce and pizza toppings, and finish baking until cooked to desired crispiness.