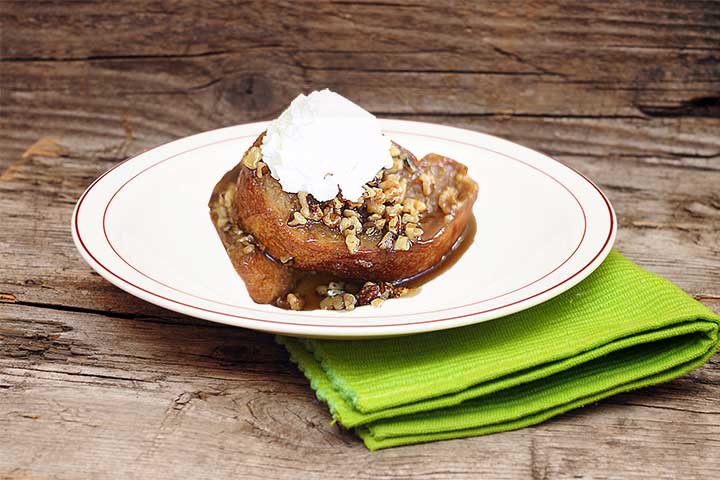 1 cup brown sugar
1/2 cup butter
2 tablespoons light corn syrup
1 cup chopped pecans, divided
12 slices French or Italian bread
6 eggs
1-1/2 cups milk
1 teaspoon vanilla
1 teaspoon nutmeg
1-1/2 teaspoons cinnamon
1/4 teaspoon salt

Caramel Sauce

1/2 cup brown sugar
1/4 cup butter
1 tablespoon corn syrup
Directions
In small saucepan, combine brown sugar, butter and corn syrup. Cook over medium heat, stirring constantly, till thickened.
Pour sauce into lightly sprayed 9 x 13″ baking dish and sprinkle with 1/2 cup pecans.  Place 6 slices of bread on top of sauce.  Sprinkle with remaining pecans and cover with remaining 6 slices of bread.
Combine eggs, milk, vanilla, nutmeg, cinnamon and salt in blender.  Pour egg mixture evenly over bread slices.  Cover and refrigerate for 8 hours or overnight.
Remove from refrigerator 30 minutes prior to baking.  Preheat oven to 350.  Bake in preheated oven 40-45 minutes till lightly brown.
Caramel Sauce:  In small saucepan, combine 1/2 cup brown sugar, 1/4 cup butter and 1 Tbsp. light corn syrup.  Cook till thickened, stirring constantly.  Drizzle over toast right before serving.
Serve immediately.